Looking for an apartment, penthouse, townhouse or villa on the Costa del Sol? We offer you a clear view of the ever growing offer of properties for sale in Estepona. INVESTINSPAIN, a Belgian BIV real estate agency with offices in Mechelen, Utrecht and Marbella, will guide you through the entire process. Using our years of experience, we provide 100% support both before, during and after the purchase of your dream home in Southern Spain! Read on for more info.
1. What to do in Estepona?
Those eager to invest in a luxury apartment or a modern villa will find a nice range of real estate in Estepona. In fact, Estepona is a thriving town on the Costa del Sol, with plenty to do. The region boasts some of the best golf courses in Europe, as well as extensive
sandy beaches
, marinas, and nature reserves. It is a traditional Spanish town that has a lot of facilities to offer. These elements make the cozy port city a top location for a second stay!
Estepona is also called "El jardin de la Costa del Sol", this is because you will find a lot of greenery throughout the cozy white streets. You will also find numerous murals of flowers, facades covered with flower pots and also a botanical garden. If you enjoy lush surroundings, we definitely recommend visiting Plaza de las Flores. Here you can sit on one of the terraces overlooking the beautiful flowers in the square.
Moreover, Estepona is also a port city. This means you can also find lots of nice restaurants and stores along the harbor. Would you like to take a fishing tour or enjoy a stroll along the Sunday market? All that is possible here!
INVESTINSPAIN: Belgian BIV broker in Estepona
Are you considering purchasing an
apartment
,
villa
or
townhouse
to buy in
Estepona
? As a specialized real estate agent in the region, INVESTINSPAIN is happy to help you make your dreams come true. Stop by for an introductory conversation. Here we listen to what your wishes are and immediately find matching
new construction projects!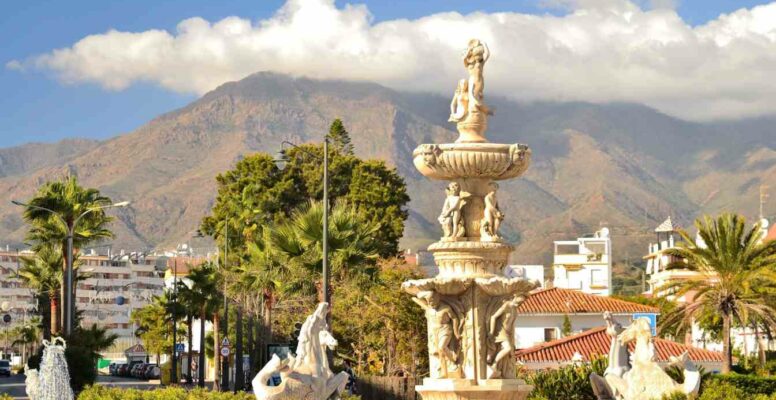 2. Avoid pitfalls and buy property in Estepona through BIV real estate agent
Buying a luxury villa or apartment in Estepona? The supply of
real estate


in Estepona
and surrounding areas is enormous and continues to grow. As a result, it is not easy to get a clear overview of what the market has to offer. Working with a reliable partner such as INVESTINSPAIN is therefore a good choice. Based on our portfolio, we present to you our selection of quality new construction. Moreover, we ensure that the purchase of your stay in Spain is conducted in a smooth and correct manner.
INVESTINSPAIN is an authorized
BIV broker
. This means that we are under the supervision of the Professional Institute of Real Estate Agents and, as a result, you enjoy some benefits as a client. By the way, this is an obligation for every Belgian self-employed person who states real estate activities. Is a broker not registered with the
IPI
then it is illegal and therefore you do not enjoy any protection. BIV brokers must adhere to the real estate broker's code of ethics and the Doctrine of Duties. In addition, he should have professional liability insurance. This means that you are a lot safer with your purchases in beautiful Spain.
5 key benefits of a BIV broker:
Regulated Belgian third-party account to place your funds securely
A BIV broker must follow a regulated Deontology under penalty of eviction!
Every BIV broker has professional liability insurance to protect consumers.
Every BIV broker must demonstrate his or her real estate expertise, as well as keep it up to date. Academic training & real estate exams are the tools for this.
Local office in own country, for contractual matters, info-sessions, … in our case we have offices in Spain, Belgium and the Netherlands.
Why search real estate in Estepona through 1 real estate agent?
You would expect that when you are in contact with multiple real estate agents, you will be able to visit more villas and apartments for sale in Estepona. However, this is a misconception because in Spain they operate with a non-exclusive market. As a result, every broker has access to all projects and prices are the same everywhere. Therefore, we recommend that you go with only 1 real estate agent, so that they have the chance to guide you 100% and check your needs. If you do contact multiple brokers, you run the risk that they will be less objective in competition with each other. While objective info is vital when investing in Spanish real estate.
Even if you were hesitant to buy directly from the developer, we still recommend falling back on a real estate agent. Because developers will also present their project in a way that is not objective. Moreover, you can count on additional guidance through your broker, and in your own language! As a result, miscommunication and ambiguities can be avoided.
3. Count on our guidance when you buy property in Estepona
Once you start your search for luxury apartments and villas for sale in Estepona, we are happy to help. It is not always easy to find your way through the wide range of real estate on the Costa del Sol. Therefore, we have already made a selection of high-quality new construction projects for you, be sure to take a look at our
portfolio
.
Before we travel to Spain with you, we would like to invite you for an
appointment
at our offices in Mechelen or Utrecht. Here we can listen to what your needs are and immediately discuss connecting projects. If you have any questions, you can also direct them to us right away. In addition to project info, we also offer a lot of financial and practical info.
Inspection Trip
Of course, it is not enough to learn about a project only through documentation. Therefore, step 2 consists of an
inspection trip
where together we visit your chosen projects. During this trip, you will have the opportunity to ask further questions to the developers and observe all the details of the project. Both the quality of the construction will become apparent, as well as the sea or mountain views you will have at your disposal. In addition, it is also important to get a feel for whether the region suits you. In any case, we will also provide you with useful tips and nice addresses where you can stay.
Want to preview some projects online prior to an appointment? Then be sure to participate in our New Construction Survey! Based on your information, we will send you some interesting projects afterwards!
4. Estepona Real Estate: Enjoy Spanish life through our services
If you are proceeding with a purchase of
real estate
in
Estepona
we make sure that you get support from a Dutch-speaking team of
lawyers and tax specialists
. All documentation will also always be
translated
so that there are never any ambiguities.
After purchasing a home, the administrative and practical matters begin. INVESTINSPAIN can take over this for you and help you with the practical arrangements regarding your
new building in Estepona
. Would you like to furnish your new villa or penthouse in Estepona? We can take care of that! Via
HOMEINSPAIN
we work out a complete customized plan, with advice from our interior designer. We also work with some reputable manufacturers to give you a wide and quality choice. Once your choices are determined, we will arrange for everything to be brought to Spain and installed on 1 transport, so that you can move into your apartment or villa immediately upon arrival.
Looking for the best security for your home? Our local network is used to provide everything from security to utilities. We also help you make the temporary
rental
of your property on the Costa del Sol. That way, you can enjoy your fulfilled dream, while INVESTINSPAIN handles the practical matters for you. Don't hesitate any longer about investing on the Costa del Sol.
Contact
Do you have any questions or would like more information? Please do not hesitate to contact us to make an
appointment
in one of our offices in Mechelen, Utrecht or Marbella.
5. Some interesting projects for sale in Estepona
The Heights & New Heights: 11 unique villas for sale at La Resina Golf in Estepona – From €995,000
The Heights is an exclusive new construction project consisting of 2 phases. Of the 11 villas, 8 will be designed in a sleek modern style, while the remaining 3 will retain more of the Andalusian character. Each property will have uninterrupted views of the Mediterranean Sea and they are also located within a secure gated golf and country club at
La Resina Golf
.
Inside the villas you will find a carefully crafted design. Here you will find the latest home automation, relaxation areas such as a gym, home cinema and a full spa. In addition, you also have a private elevator for added comfort.
More info about this project can be found
here
.
Scenic Estepona: Luxury new development close to the center of Estepona – From €285,000
Scenic Estepona is a new construction project consisting of pleasant apartments near the center of Estepona. Because it is located in a hilly area, it also enjoys breathtaking views of the Mediterranean Sea and
Gibraltar
. Within the project there is a wide choice of homes ranging from 1 to 5 bedrooms and there are also indoor areas from 98 m2 to 180 m2 and large terraces from 18 m2 to 69 m2.
Private gardens are provided for the ground-floor apartments, and jacuzzis can be optionally placed on the terraces of the penthouses. All homes are designed with an open plan design, letting in plenty of light. There are also a number of shared areas that feature: an infinity pool, a gym, a multipurpose room, and a good vantage point over the verdant tropical gardens. These gardens also make it an area fully integrated with its surroundings.
More info can be found
here
.
Emare: Frontline beach villa apartment next to Laguna Village- for €3.850.000 – Read
[more]
Emare: Frontline beach villa apartment next to Laguna Village- for €3.850.000 – Ready to move in! This projec
[more]