Buying property Marbella: INVESTINSPAIN helps you with your search – Many people are often held back from making an investment in foreign real estate because of the various obstacles. Think of unfamiliarity with the local market, regulations, language, … all of these are barriers where INVESTINSPAIN you effortlessly navigate through. By relying on our specialization and our wide, local network, you will overcome all these obstacles without worries.

In this article:
Current situation real estate market Marbella
Buying a house in Marbella? No more obstacles!
Meet INVESTINSPAIN, expert real estate agent in Marbella
Facing the southern life with our help
The best houses Marbella
Buying a house in Spain: How does it work?
Current situation real estate market Marbella
In little more than a decade we have had the impact of a financial crisis and the Covid pandemic, but the Costa del Sol real estate market always comes out on top. This is also true when we look further back in the past, and when one analyzes the reason for this remarkable ability to bounce back from what are mostly global situations, the clear conclusion is that it is the quality of life of this region that gives it real and lasting desirability. In other words, the Costa del Sol and Marbella in particular have something to offer that is not diminishing in value, but seems to be growing with each year – and crisis.
The Costa del Sol real estate market had been in solid recovery-growth mode for several years, driven by strong demand for newly built modern villas and apartments, when the Covid crisis hit in the spring of 2020. What followed was not caused by a financial or macroeconomic crisis, nor was there a lack of demand, but rather a forced shutdown of the economy and travel routes directly affecting the market. Not only were sectors such as tourism, hospitality and retail strongly affected by these closures, but while online inquiries for properties on the Costa del Sol soared, hardly anyone was able to travel for viewings or completion at the notary.
The result was a significant drop in sales, but while most of us expected a strong recovery in 2021, the real strength of demand, especially in the middle and upper segments of the Costa del Sol real estate market, set new records. This indicates the aforementioned unabated demand for this region, but was also the product of:
The release of unmet demand from 2020
The Covide confinement – making many want to take the plunge and opt for lifestyle-driven choices such as buying a property in Marbella
The rapid growth of remote working
Previously observed trends were thus accelerated in the past two years, and they have led not only to strong renewed growth in tourism and real estate on the Costa del Sol, but also to a series of new trends, such as:
A growing number of buyers are families aged 30 to 50, often with school-age children.
Not only does this affect schools and general services as the year-round population grows, but it also gradually changes the type of real estate that is now most in demand:
A relative shift from apartments to villas – and from vacation homes to permanent or semi-permanent homes, with the accompanying emphasis on quality, technology and comfort.
A desire for work, relaxation, training and garden spaces
A clear preference for modern and new homes, but since these are now scarce, a greater acceptance of off-plan buying and delivery times
Renovated and modernized homes in good locations are also popular
Limited inventory in Marbella attracts buyers to new areas in Benahavis, Estepona, Marbella East and Mijas Costa.
Most popular are apartments €500k for and €1 million to €15 million for villas.
Buying a house in Marbella? No more obstacles!
As a Flemish real estate agent in Marbella we literally and figuratively speak your language. Moreover, we have spent years building our own network in the region from reliable project developers, contacts with utility companies to security. We know the market, the environment and the possibilities. From this established position, we would also like to get to know you as a customer. We bridge the gap between the Hispanic
real estate industry
and anyone looking for a partner to handle real estate in Marbella. Moreover, our service does not stop after the search. We go much further to realize your dreams. Discover it for yourself: feel free to ask us for more information.
Meet INVESTINSPAIN, expert real estate agent in Marbella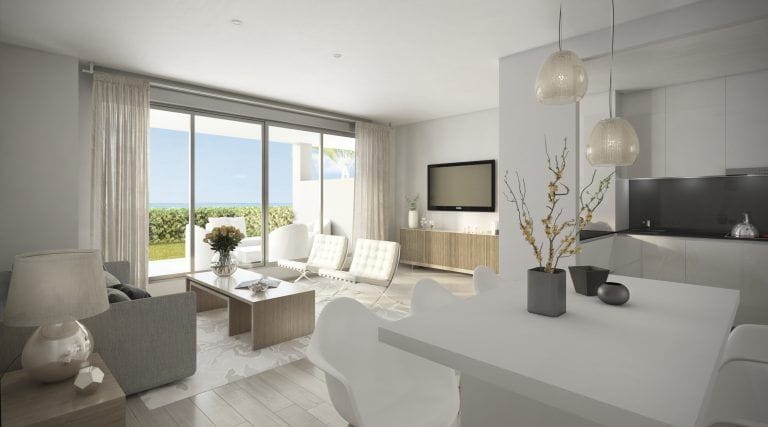 You want
new apartments
for sale in Marbella? Would you like to know which
villas
or townhouses right on one of the countless golf courses of the Costa del Sol? Or are you looking for more information about penthouses with a beautiful infinity pool? Or perhaps general questions about the
investment opportunities
in and around Marbella are bothering you? These are all good reasons to contact us and stop by for an introductory meeting. We would like to explain more about the area, our operation and the purchase process of real estate on the
Costa del Sol
. We advise you throughout the entire process.
Also read these articles about buying houses Marbella:
Facing the southern life with our help
Buying a house in Marbella? Fast forward. You have made your requirements clear and we have provided you with a selection of suitable real estate projects suggested. The three-day
inspection trip
to your preferred projects in Marbella went smoothly. You are in love with a certain spectacular second stay. And you even signed an agreement. The die is cast, but you are well taken care of and supported. Getting your signature is only the first step. You may feel comfortable regarding practical concerns. In fact, INVESTINSPAIN helps you take care of everything from
legal administration
to the total furnishing of your purchased property. Also
maintenance
, security and even rental we can take on our shoulders. While quietly hitting a ball on the green , exploring local water sports or enjoying the local culture. Or enjoy it on your own terrace. Meanwhile, INVESTINSPAIN makes sure everything is in order for you.
The best houses Marbella
In this overview, we have selected the 3 best new construction homes projects. This selection consists of luxury homes currently for sale. The completion dates for the homes range from 2022 to 2024.
1. Dunique – Innovative townhouses near Marbella center – from €1,900,000
Dunique is a new construction project located on the beach in Las Chapas (Marbella), on one of the last available plots on the coast. This fantastic complex offers 96 spacious apartments and townhouses with exceptional qualities.
The Dunique Social Club, located in the highest part of the project, will undoubtedly be an eye-catcher thanks to its avant-garde architecture. At this club you can enjoy a complete spa, a 200 m2 gym, a special room for "coworking," an outdoor gym for meditation and yoga and an indoor pool more than 40 meters long.
Like the complex itself, the homes have been carefully designed to provide a unique living quality experience. You will find exceptional materials, including first-class porcelain tiles, spacious kitchens with top-of-the-line appliances, hot and cold air conditioning, private pool in each of the homes, storage room, garage for at least two vehicles, and so on. And as if all this were not enough, you will also have the ability to make changes to your liking.
Find more info here!
2. La Finca de Marbella 2: 35 luxury villas in Marbella from €1,990,000
La Finca de Marbella 2 offers a beautiful villa style, namely the Iroko. This design, with 4 bedrooms and 3.5 bathrooms, is built on the successful and popular Pino model in the first phase of La Finca de Marbella. Some key features include independent underfloor water heating, domestic hot water supported by solar panels, as well as hot and cold air conditioning.
At this villa style, you have the opportunity to choose between 4 types of kitchen layouts: Open, Bar, Closed or Central to meet your personal taste. Bedrooms are provided on both floors, with en-suite bathrooms.
The private plots are beautifully landscaped with electric gates giving access to the villas, which have their own 30m2 carport and private pool.
Careful planning ensured that sea and mountain views will be from the villas. Most plots are southwest facing with views of Marbella and the sparkling Mediterranean Sea, the beautiful La Concha mountain and the famous
Puerto Banús
.
Find more info here!
3. Le Blanc Marbella villas: Exclusive villas on the Sierra Blanca in Marbella- from €1,550,000.
Le Blanc Marbella is a project ofunique and exclusive luxury vill as with breathtaking views. Located above the famous Golden Mile and at the foot of the Sierra Blanca, this region is one of the most popular residential regions of the Costa del Sol. The architecture of the villas has its own character and stands out in the modern real estate being built today in Costa del Sol. Nature, greenery, a tropical setting at the foot of Sierra Blanca.
Depending on the villa, the master bedroom has an ocean or garden view. In addition, the ensuite bathroom has views of Marbella and the coast and very spacious walk-in closets are also provided.
You can also enjoy panoramic views on the villas' roof terraces , and Le Blanc Marbella 's shared pool is surrounded by beautiful green areas.
Each home has 3 parking spaces and at an additional cost the following modifications can be made:
A private pool in the garden
A jacuzzi on the rooftop terrace
An elevator
A private gymnasium
An outdoor kitchen on the roof terrace
Find more info here!
Buying a house in Spain: How does it work?
As real estate agents, we, INVESTINSPAIN, specialise in the Marbella – San Pedro – Estepona region, the 'Saint-Tropez' of Spain. Not only because of its climate and quality of life, but also because it is one of the least crisis-prone areas in Spain. Would you like to buy an apartment or house through a real estate agent in Marbella – Estepona, who speaks your language? Let us help! We want to give our customers a personalised approach as we would like for ourselves. Buying a first or second home in Spain is no small thing. There is an emotion to this and we like to listen to it.
Investing in Spanish real estate? InvestinSpain founder Gunther de Vleeschouwer explains how that works in this short video.