Buying a villa in Spain on the Costa del Sol – INVESTINSPAIN is ready to assist you in finding and buying a luxury villa in Malaga. As your Dutch-speaking real estate agent we offer you through our reliable, local partner network villas that meet all your needs. We support you with advice and practical arrangements throughout the entire purchase process and even beyond through our after-sales service package. Find out here how we support you 100%!
1. Buy a villa in Spain: how we can help you
Modern villas with a contemporary design on walking distance from the sea, marinas, golf courses or nature reserves. There are many options. INVESTINSPAIN helps you when you are looking for the most exclusive opportunities at the Costa del Sol. The crème de la crème of real estate projects on the Costa del Sol.
Buy a villa in Spain is a challenge for who is not familiar with the Spanish real estate market. As an experienced real estate agency in the region of Marbella, INVESTINSPAIN streamlines the entire process for you during and after purchase. Take a look at our expanding portfolio of luxury real estate opportunities. Have you seen an interesting project or do you have questions? Feel free to make an appointment at our office in Mechelen. We will discuss your requirements and make sure that we can meet your expectations. We can then organise an inspection trip to Marbella to visit some projects of your choice.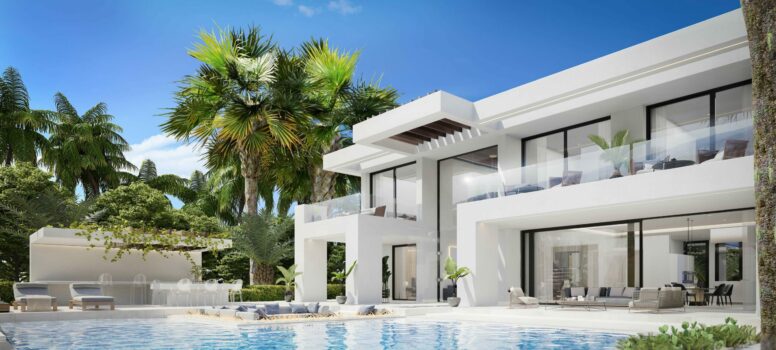 2. The exclusive opportunities for your second home
A villa at the Costa del Sol? By partnering with our local network we will find the project that's right for you. Think of top locations, the highest quality standards, a lot of space and all kinds of facilities in your neighborhood. Perhaps you are looking for a great opportunity close to a golf and with sea view. A villa in a gated community with a private garden, a fantastic infinity pool and custom made kitchens? Both options are possible. Or a luxury modern boutique villa in the mountains of Mijas with sea view. Perhaps you are looking for an ecological and low-maintenance building with first line golf and sea views. It all belongs to the possibilities. You will see your Spanish dream come true? INVESTINSPAIN puts every effort to assist you with the purchase of the ideal villa in Spain.
3. INVESTINSPAIN: Services for buying a villa in Spain
Buying a villa in Spain is also possible without worries. Through our extensive services we guide you before, during and after the purchase of your dream home. For example, we always provide translations of the Spanish contracts, and we work together with a Dutch-speaking team of lawyers and tax specialists to ensure that everything runs as smoothly as possible. We are also at your service with an extensive property management system and we can provide the interior of your home ourselves!
Would you like to learn more about our services or would you like to discuss some projects? Then make an appointment in one of our offices! We look forward to welcoming you!
We are happy to receive you in one of our offices
Spain
Belgium

The Netherlands
Higueron West 217: Move-in ready 2 bedroom flat in Fuengirola – For €410,000 This luxury flat in Fuengirola is fully furnished by Homeinspain with warm ea
[more]
Higueron West 217: Move-in ready 2 bedroom flat in Fuengirola – For €
[more]
Palo Alto: New modern development in the mountains of Ojen- from €699.000 Discover a place of natural beauty, in the beautiful Andalusian countryside, minutes f
[more]
Palo Alto: New modern development in the mountains of Ojen- from €699.000 D
[more]
Palma Real Suites: Modern flats and penthouses close to the sea in Palm Mar, Tenerife – From €253,000 This development offers 160 spacious 1 and 2-bedroom
[more]
Palma Real Suites: Modern flats and penthouses close to the sea in Palm Mar
[more]