Would you like to buy an apartment in Spain by the beach? Discover the top selection by INVESTINSPAIN – real estate for those who want to enjoy life. We can help you with our services and our step-by-step plan to invest without concerns. Have you been looking for your dream home in Spain, but you don't want to handle the administrative and practical details? Let INVESTINSPAIN help you! As real estate specialist, we can support you in every step; before, during and after signing the contract.
Invest in Spanish real estate without concerns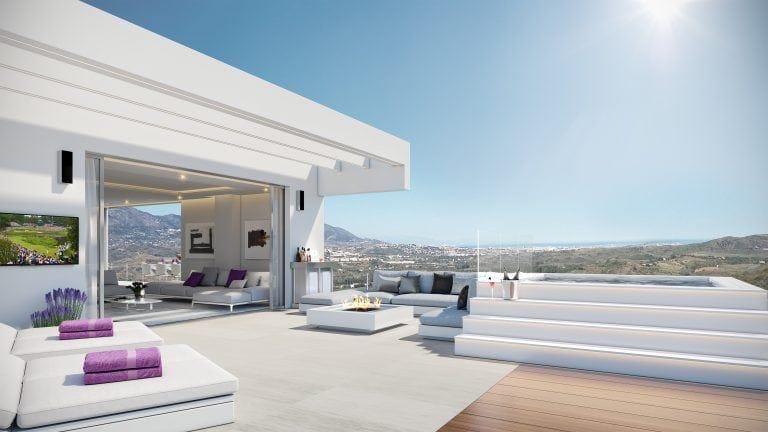 Frontline sea view on the ground floor, a mezzanine level or the extra spacious penthouses with large terraces? Your dream home is waiting for you at the pearl of Spain, the Costa del Sol. Invest in exclusive properties on this beauty location without worry. As a Belgian real estate agency we give advise at home, as well as in Spain on site, to make your real estate dream come true. We give answers to any question, and help you purchase a property without worries.
Step-by-step plan to buy an apartment in Spain
You don't have to search for weeks and months through the enormous offer of apartments. In many cases, these offers are unreliable and not what you're looking for.
Step 1: Make an appointment at our office. During this meeting we will discuss your requirements and your budget to offer you a tailored selection.
Step 2: Organization of an inspection trip to visit several projects that can be interesting for you. During this trip you can also explore the region. We will only visit together with you the selected projects.
Step 3: You choose the ideal apartment and when there is an agreement about the price, you sign the reservation document. Your lawyer can now investigate the property. After his approval, you can transfer the reservation amount to the project developer.
Step 4: The signature of the purchase Agreement. INVESTINSPAIN will assist you with the translations of all important documentation and can clarify all your legal questions.
Congratulations, you're the owner of your dream apartment at the Costa del Sol!