Buy an apartment in Marbella: an investment for those who want to enjoy life – Would you like to wake up every day with beautiful sea views and a sea breeze? Real estate agency INVESTINSPAIN can help you find the most attractive luxury apartments in Marbella. First line beach, an apartment next to one of the 72 golf courses in Marbella, a penthouse with views over the beautiful nature, spacious villa-apartments and much more. Discover our large offer of upmarket real estate on exclusive top locations.
Why choose Marbella?
Marbella is the heart of the Costa del Sol. This place offers the convenience and comfort of a cosmopolitan city in an excellent micro climate, close to the beach. In addition, this region is a paradise for golf lovers: with its 72 golf courses this region is also known as the Costa del Golf.
What more can Marbella offer you? Almost all days of the year of sunshine, beautiful weather and plenty to do for the whole family. Water sports facilities, natural beauty and a thriving nightlife. Who would not want to buy an apartment in Marbella? This can be seen in the figures: the purchase of real estate in Marbella by Belgians continues to rise.
This is not only the consequence of the luxury Marbella has to offer. Real estate in this region is also considered to be good value for money. A very interesting investment! Because we understand your worries concerning the financial matters, we work together with a team of tax specialists and lawyers to make sure that you choose a solid investment opportunity.
Buy an apartment in Marbella with a reliable real estate agency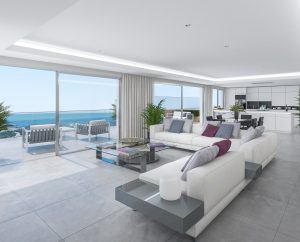 Because buying an apartment abroad is a complex process, it is important that you can work together with a reliable agency. INVESTINSPAIN has many years of experience, both on the local market as on the Belgian real estate market. We are specialized in the region of Marbella and we can inform you on the most interesting new construction projects.
We begin with an introduction meeting at our office in Mechelen. We discuss what you are looking for, what your specific needs are and what budget you want to spend. After this orientation phase, we will present you a selection of projets at the the Costa del Sol. We will take a look at the different options so you can decide which options you prefer. The next step is visiting the different projects and the region during a guided inspection trip.
Have you found your dream second home? INVESTINSPAIN can help during the purchase with tax and legal advice and accurate translations. But even after signing the contract we can help you. Think of looking for furniture and decoration for your new home, maintenance, security and much more.