House for sale Marbella: permanent vacation on the Costa – Real estate agent INVESTINSPAIN helps you in your search for a luxury second home on the Costa del Sol. Many new construction projects are launched every year in this beautiful region. That makes it quite a task to find your ideal house for sale in Marbella. INVESTINSPAIN uses its local network to bring you the best. Come meet us and discover the most interesting investments on the Costa del Sol.

Marbella immo: We find the perfect house for sale in Marbella for you
Buying a house in Marbella – Why this region?
The best service even after purchase
Interested in buying a home in Marbella? Please do not hesitate to contact us!
1. Marbella immo: We find the perfect house for sale in Marbella for you
Buying a house in Marbella? In the search for a
luxury home
or spacious villa with spectacular views in the luxury resort town of
Marbella
, INVESTINSPAIN helps you both before, during and after the purchase. Take a look among our recent new construction projects and make an appointment to discuss your interest with us. Found some projects that fit your needs? If so, we invite you to go on an
inspection trip
to Marbella. With guidance, you will visit your selected projects and have the opportunity to thoroughly compare all options. Moreover, we are also happy to give you tips and nice addresses in the region. Do you subsequently purchase the property of your dreams through INVESTINSPAIN? Then we will refund the inspection trip to you.
2. Buying a house in Marbella – Why this region?
Did your eye fall on the offer 'house for sale Marbella'?
Marbella
is the ideal place for epicureans! It is also for this reason that many Belgians and Dutch have already taken the step to purchase a second residence in this region on the
Costa del Sol
. You can both enjoy the busier places with a wide range of stores, bars and restaurants and enjoy the peaceful nature there. Marbella is a lively place that keeps you active with a lot of facilities and at the same time is a fantastic place to fully enjoy the southern lifestyle.
In
Marbella
is additionally located,
Puerto Banús
, the most famous marina on the Costa del Sol. Here you can enjoy a stroll along the exclusive zone with numerous yachts present, chic bars, restaurants and several luxury boutiques. Marbella is also a paradise for golf lovers; you can practice this sport all year round on numerous golf courses in the region in beautiful natural surroundings. Moreover, the old part of the city of Marbella, el casco histórico de Marbella, is also a nice place to visit. The
Plaza de los Naranjos
("orange square"), for example, is a picturesque little square where you can enjoy delicious dishes in typical restaurants.
3. The best service even after purchase
At INVESTINSPAIN, we understand that signing the purchase agreement is only the first step. There is a lot to be done before you can move into your new dream property. When INVESTINSPAIN supports you in this process, you don't have to worry about anything. We assist and advise you with the following matters, among others: tax and legal advice , contracting with utility companies and getting the utilities installed, furnishing your new home,… To give you the opportunity to design
your premises from A to Z
, we cooperate with a number of manufacturers. Some examples are Indera and
Jati & Kebon
. Yes, you can even rely on us for maintenance, monitoring and possibly rental.
With this approach, we offer you a worry-free investment! In other words, you can go carefree and enjoy sun, sea and luxury living in your home in Marbella. Furthermore, you do not have to worry about the periods when you are not in your vacation home. Thanks to the
Property Management
package from INVESTINSPAIN, your home is in good hands. Want to know more?
Contact
our office in Mechelen or Utrecht for more information.
Lees ook:
The number of Brits registered on the Costa del Sol has grown for the first time since before Brexit. At the end of
...
Continue reading
Our first info day was a great success, for us but especially for our customers who received the latest update on t
...
Continue reading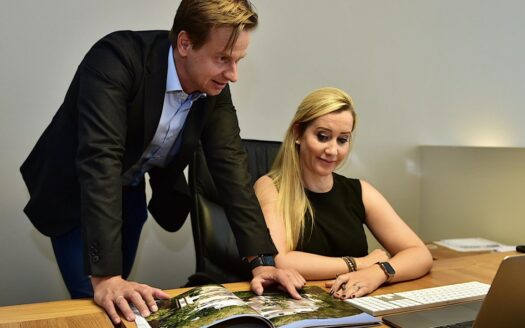 A new era is dawning at INVESTINSPAIN. This is not due to the Corona crisis, but because after the sale of his tel
...
Continue reading
On 15 February 2020 INVESTINSPAIN organized an information day in the well-known restaurant Silo's in Boortmeerbeek
...
Continue reading
Interested in buying a home in Marbella? Please do not hesitate to contact us!
Have you looked in our portfolio seen a house to buy in Marbella that you want to know the ins and outs of? That affordable designer home with ocean views of the Mediterranean coastline perhaps. Or the resort-style property on the coveted Golden Mile? In short, whatever your preference, feel free to come discuss it with us. We suggest the best projects that match your needs and budget. Soon you will be able to enjoy the Mediterranean life from the comfort of your own luxury home in Marbella! Do not wait any longer and book an
appointment
online or at the office. INVESTINSPAIN helps you move through the entire process without worry. Or fill out the survey below and we will be in touch with personal recommendations ASAP.