Buying a luxury house on the Costa del Sol – Last year around 4,000 Belgians bought a second home in Spain. The Costa del Sol with all its glamour and ideal microclimate is a top property hotspot. And at the same time a good investment opportunity, as prices for properties around Marbella have been rising for several years. Let INVESTINSPAIN guide you in your search for the perfect second home!
1. Buying you dream house with support
You are planning to buy a luxury house near to the best golf courses of Europe as a second home? A villa with private swimming pool at walking distance from the beach? A modern development on the New Golden Mile in the charming Estepona? Your own finca in the prestigious Sotogrande resort? Whether you are looking for a villa-apartment, a penthouse, or your personal villa at the beautiful Costa del Sol, INVESTINSPAIN can help you realize your dreams.
We match your wishes and budget to affordable upmarket real estate on the Costa del Sol. Marbella, Estepona, Benahavis,… With us at your side you will discover the most interesting new developments. Great facilities, good accessibility, and more. We know the top locations that will make all your wishes come true. Life on the Spanish Costa is waiting for you. INVESTINSPAIN advises you before, during and after the purchase of your new home with all kinds of practical matters.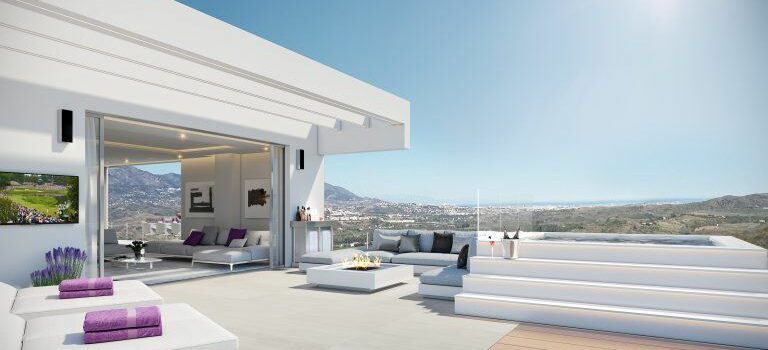 2. INVESTINSPAIN makes the purchase process easy for its customers
Thanks to INVESTINSPAIN's comprehensive service, you are not alone after signing the purchase contract. Buying a house on the Costa del Sol may sound simple, but it involves a lot of practical matters. From our years of experience we can streamline this process completely for you. We offer everything from legal advice before signing to the complete furnishing of your new home after purchase. We also know what to do with security, the connection of utilities, maintenance and even rental.
Thanks to INVESTINSPAIN you avoid pitfalls when it comes to Spanish real estate, because we have years of experience in the sector. If you already want to have a look at interesting projects, you can easily consult our constantly expanding portfolio. Want to know more about our projects? Then be sure to contact us.
Would you like to visit your future dream villa?
Why choose INVESTINSPAIN?
Are you looking for a residence in the Costa Del Sol? We would love to see which projects are suited for you during an appointment.