Buying an apartment, penthouse or villa on the Costa del Sol, Spain is the dream of many. It is a sunny life full of natural light, delicious lunches on the beach and fun parties late into the night. In this article, we take you through the top 23 Costa del Sol for sale projects of 2023.
New construction Costa del Sol for sale up to €400,000
1. Àtica Homes
Àtica Homes: apartments just steps from Estepona center – from €174,000
Àtica Homes consists of seven residential blocks with a total of 132 homes with 1, 2, 3 and 4 bedrooms with garage, storage room, communal pool for adults and children and play area. The 7 blocks each consist of 3 floors plus basements and will be integrated into the environment with modern and contemporary architecture to enjoy this new complex.
2. ABC Plaza
ABC Plaza: residential complex of 13 apartments in the center of Estepona from €275,000
This new construction complex of 13 apartments, with 1 and 2 bedrooms, is located in a very good location in the center of Estepona, just 50 meters from Rada's beach. The properties inside this project are spacious, with large terraces and plenty of natural light. The layouts are designed to maximize every meter and to offer open, versatile and functional spaces with exceptional finishes, fitted kitchens and installation of air conditioning through an aerothermal system.
3. Dreamgolf
Dreamgolf: Frontline golf apartments at Calanova Golf – from €229,000
New project in Mijas Costa, Malaga. This private urbanization has 54 apartments with 2 and 3 bedrooms distributed in 3 blocks of 3 floors high. Very bright homes with spacious living rooms with integrated kitchens, contemporary design and made to enjoy privacy and proximity to the golf course.
4. Isidora Living
Isidora Living is a beautiful residential project with 102 apartments and penthouses, divided into2 blocks, each with 51 homes, with 1, 2 and 3 bedrooms, located in the center of Estepona, on the Costa del Sol. And best of all, it is just a 5-minute walk from La Rada beach and the old quarter. Isidora Living reflects the Mediterranean lifestyle, the light, happiness and tranquility of a carefree life.
5. NINETEEN 41
NINETEEN 41 Estepona: 60 new-build apartments on the New Golden Mile – From €350,000
NINETEEN41 consists of 60 2, 3 and 4 bedroom homes with exceptional finishes. This residential complex, with clean, organic lines that blend perfectly with its natural surroundings, features common areas where every detail has been taken care of. These include 3 swimming pools, 2 padel courts, a spa, gym, locker rooms and even a co-working space and communal kitchen. Because families' peace of mind is a priority, Nineteen41 features an integrated security system and the installation of video surveillance cameras, as well as a license plate recognition system at garage entrances.
6. Aranya Estepona
Aranya Estepona: Newly built apartments close to La Resina Golf – From €178,000
Aranya Estepona is a gated residential complex located in a unique enclave surrounded by golf courses. You will be able to enjoy the various common areas such as the coworking area, the gym, the children's play area and the garden. Moreover, thanks to the good climate in Costa del Sol, you will be able to enjoy the salt chlorinated communal pool all year round.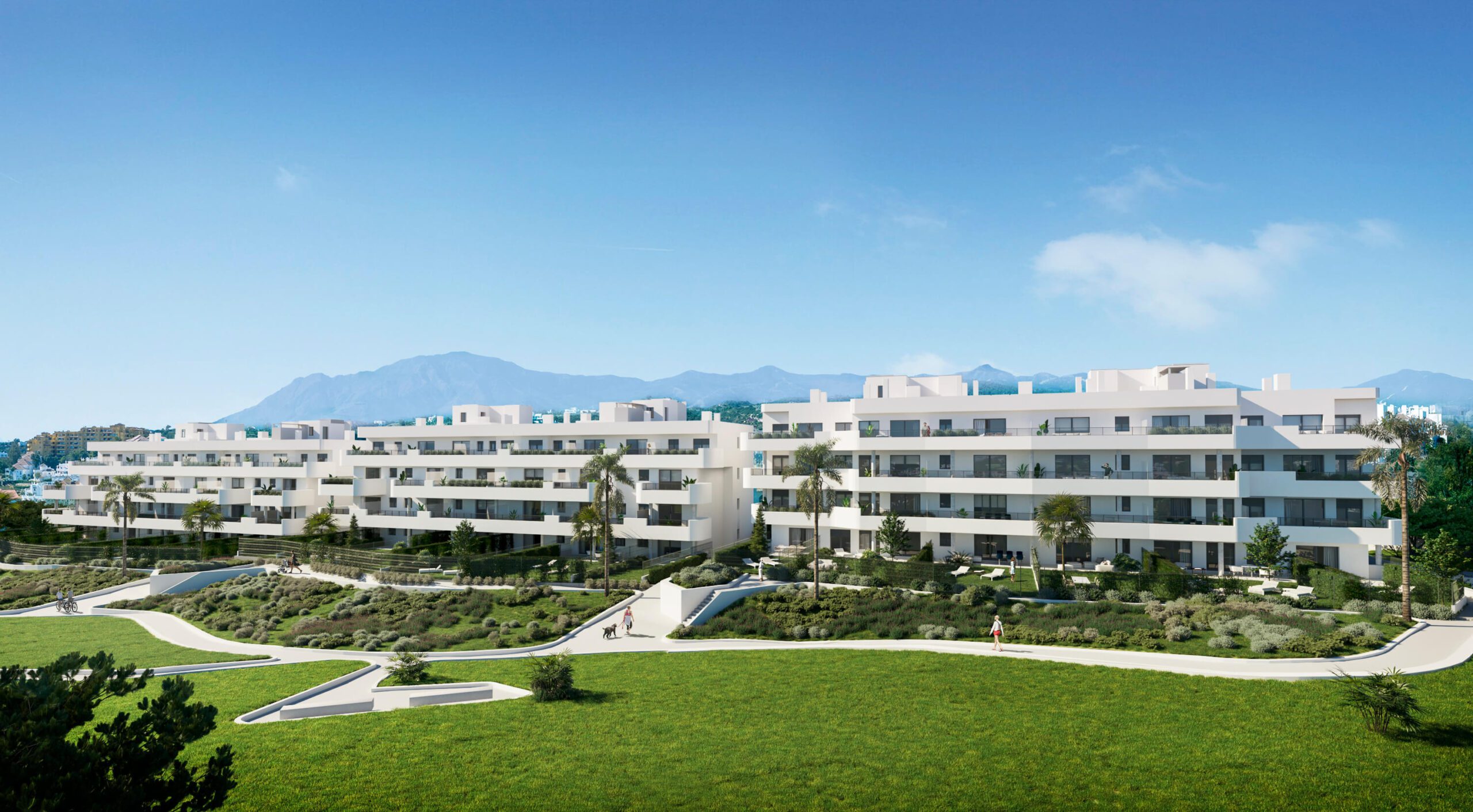 Costa del Sol for sale up to €600,000
7. Alma
Alma: boutique apartments surrounded with extensive facilities in La Cala de Mijas – From €569,000
Alma is a boutique development with only 16 tastefully and beautifully finished apartments in La Cala de Mijas. Alma forms a private gated community, offering spectacular 180° views of the sea. Here you can enjoy complete peace, comfort and relaxation in an environment close to everything you could wish for.
8. Zenity Azure
Zenity Azure: Spacious 2 to 4 bedroom apartments and townhouses close to the beach in Estepona – From €402,000
Zenity Azure, located in western Estepona, enjoys stunning sea views. It is an exclusive project consisting of 84 luxury homes with generous interior spaces, spacious terraces, spectacular views, common areas, pools and a club zone. The 2, 3 and 4 bedroom apartments are divided into low-rise buildings to ensure the greatest aesthetics and privacy. In addition to apartments, Azure also offers duplex apartments or townhouses with private gardens.
9. Royal Palms
Royal Palms Mijas: Resort style project with spacious 1 – 3 bedroom apartments from €615,000
Royal Palms Mijas offers a variety of 1-3 bedroom apartments and penthouses. It also features a sprawling resort with pool surrounded by beach, indoor gym and children's play area and plenty of natural greenery where families can spend their days exploring. The apartments feature high-quality furnishings, including open kitchens and have incredible sea views from terraces thanks to their hilltop location. This project is being built to the highest standard using only the highest quality materials and luxury finishes.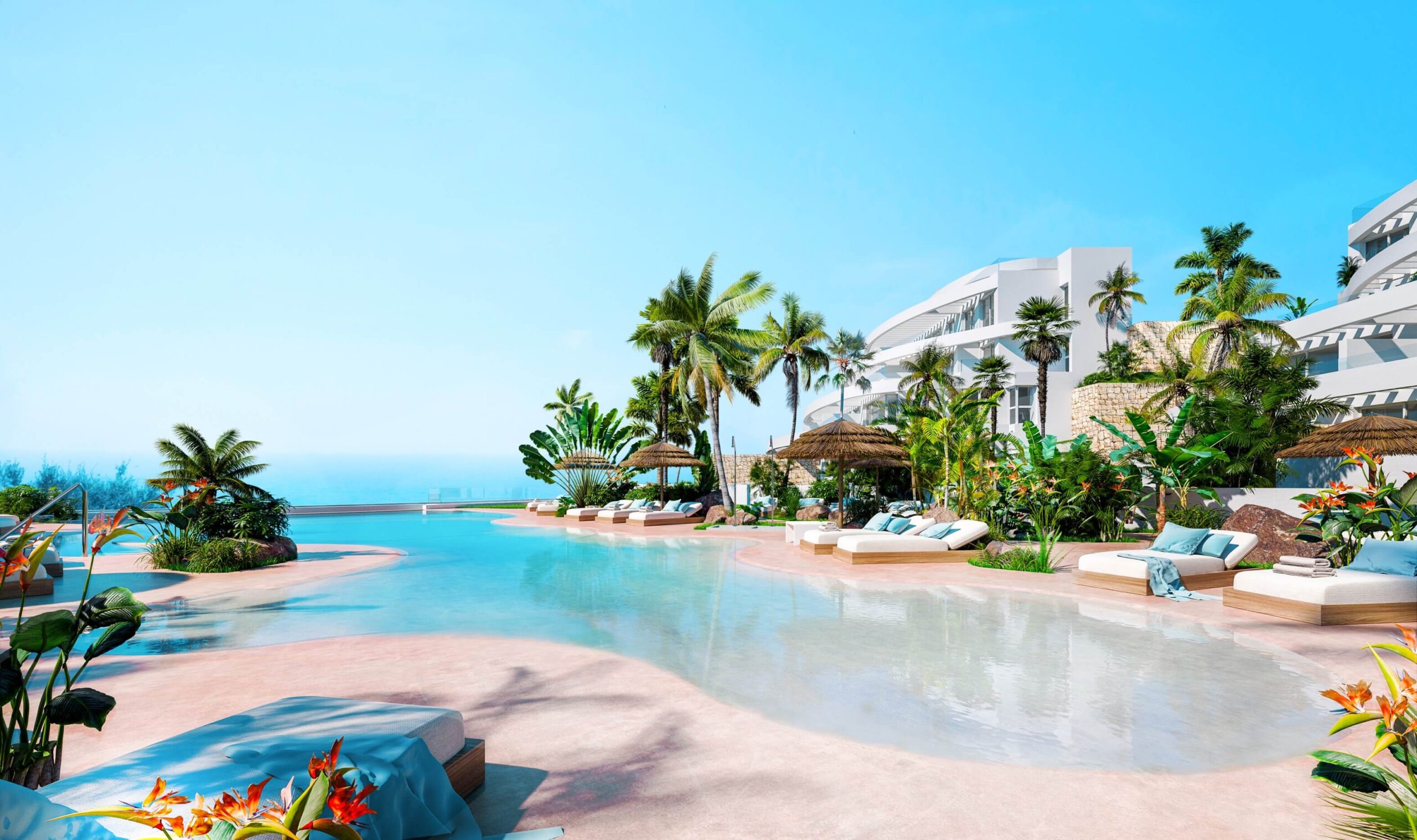 10. ISEA Estepona
ISEA Estepona: new construction apartments near Estepona Golf with sea views – From €407,000
This new urbanization is divided into 54 apartments with sea views and large terraces. Within this project you will find 2 and 3 bedroom apartments and 2 bedroom duplex penthouses. You can enjoy the Spanish sun as well as sea views all day long, as there are terraces at the front and back of the units.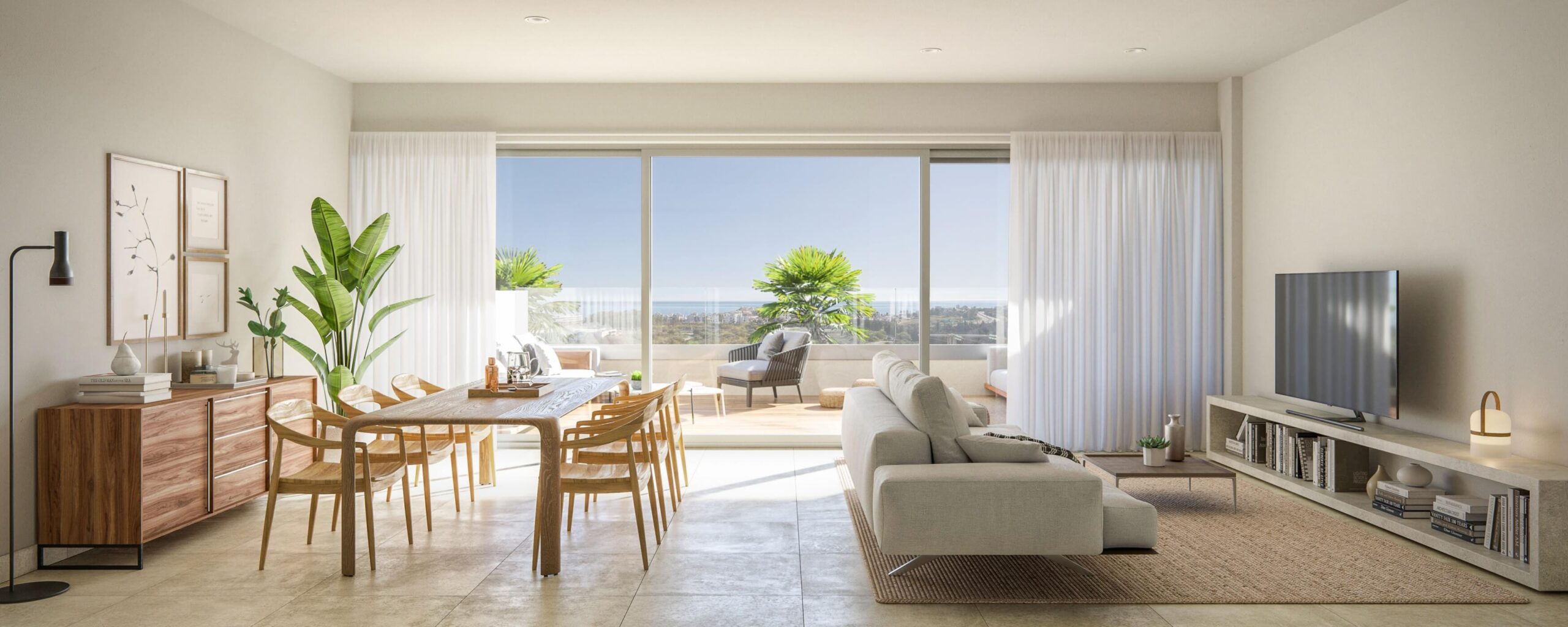 11. The Alchemist
The Alchemist: Spacious 2 and 3 bedroom apartments 500 meters from the beach – From €459,000
The Alchemist Residences – a new project of luxury apartments and penthouses located in Estepona, between the Sierra Bermeja Mountains and the sandy beaches of the Costa del Sol. The homes are designed with spacious and elegant rooms and feature state-of-the-art technology with a home automation system, eco-friendly air conditioning and underfloor heating.
Costa del Sol for sale up to €1,000,000
12. Abu 14 Marbella
Abu 14 Marbella: High-end apartments 200 meters from the beach – From €771,000
ABU 14 is a spectacular off-plan project located in the heart of the city of Marbella on the Costa del Sol, just 200 meters from the promenade. The fantastic building with a spectacular design has a total of 5 floors and 16 apartments and penthouses with 2 and 3 bedrooms, with areas ranging between 124 m2 and 186 m2.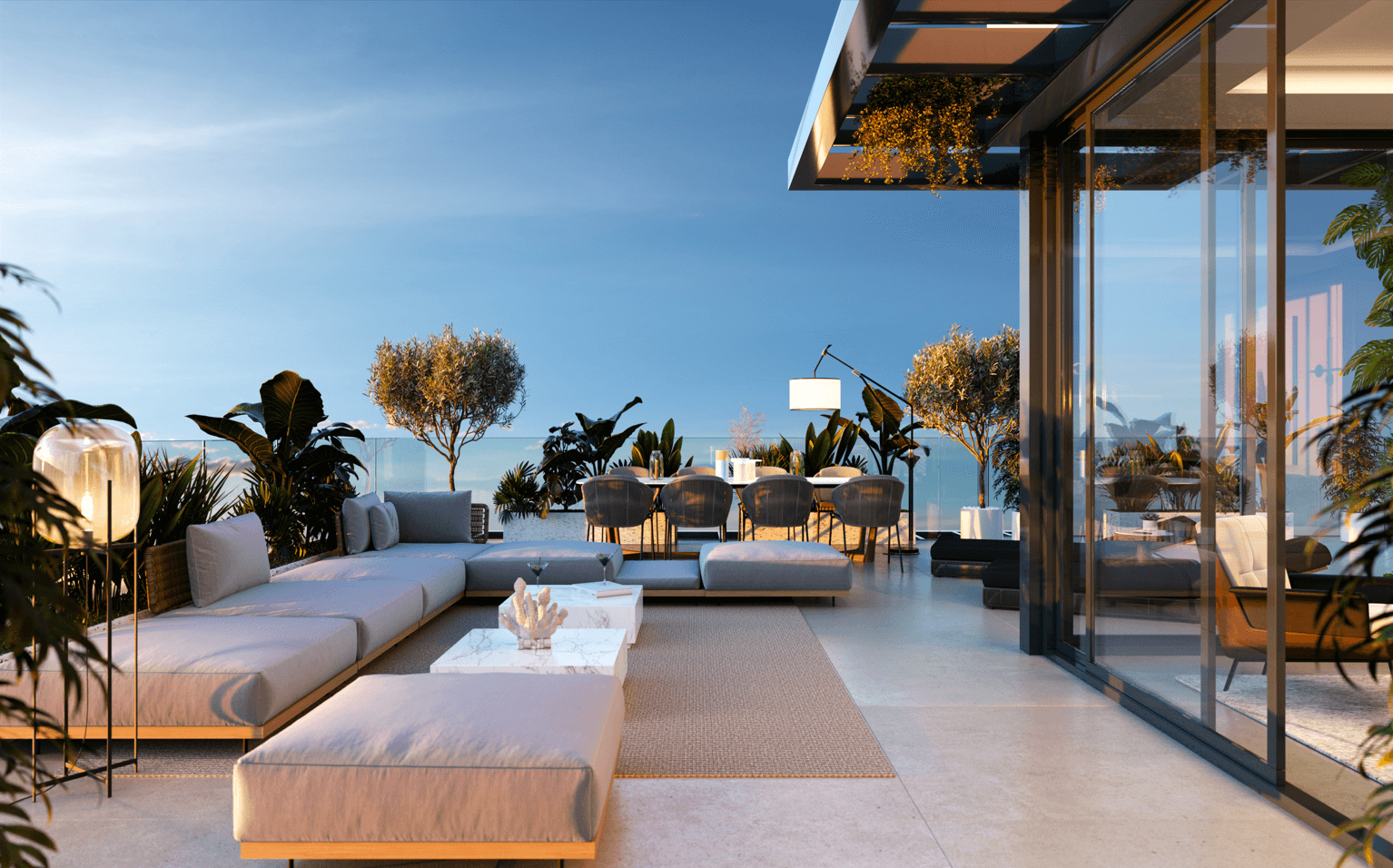 13. La Seda Mijas
La Seda Mijas: 12 villas in the hills of Mijas with stunning sea views – from €845,000
La Seda Mijas is a new residential complex of 12 contemporary villas, all with incredible sea views. The beautifully designed homes are an intelligent blend of modern architecture with Andalusian features. Gardens and green spaces create a park-like area. The villas offer a perfect combination of impeccable design and modern comfort. All homes offer breathtaking views of the surrounding area all the way to the Mediterranean Sea. They also feature large and open indoor and outdoor living spaces, three to five bedrooms, private heated pools and elevators.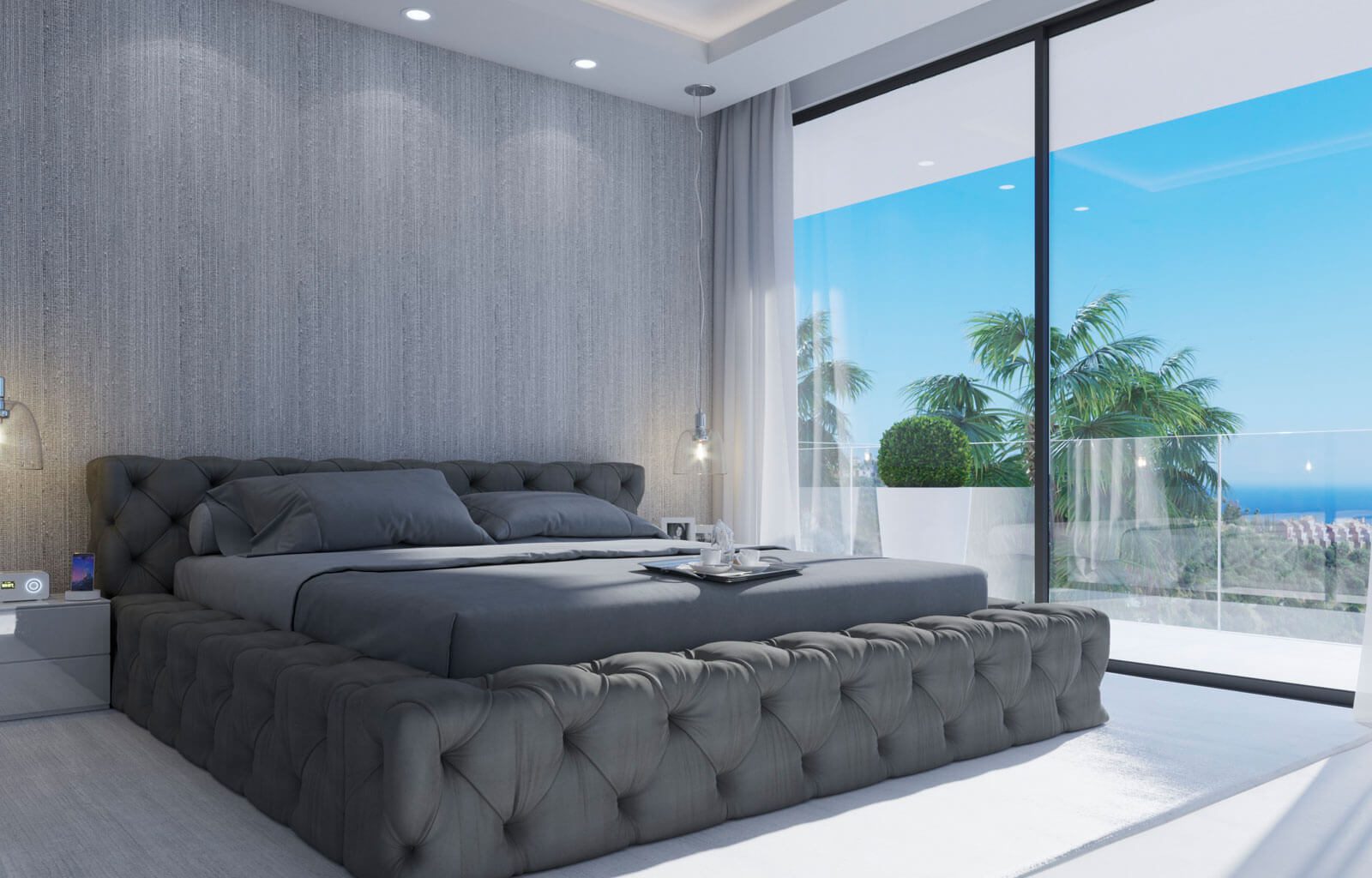 14. Campanario Collection
Campanario Collection: Villa project in Estepona surrounded by several golf courses – from €990,000
This project is located just 10 minutes from one of the most luxurious places on the Costa del Sol, Puerto Banús. Puerto Banús' vision is to lead luxury nautical and leisure tourism in the Mediterranean. Its main mission is to provide unforgettable experiences and top quality services to its visitors.
15. La Paloma Collection
La Paloma Collection: villa project in Sotogrande close to the sea & golf from €875,000
La Paloma Collection consists of 11 modern style villas with a contemporary design spread over 2 floors. The extended homes include garden and swimming pool. The villas feature 3 bedrooms, 3 bathrooms, (optional a 4 bedroom), large open living spaces with a modern style kitchen, leading directly to the gardens with pools.
16. Tiara
Tiara: High-end new development located in Benahavís with apartments starting from €859,000
Tiara consists of 56 exclusive homes with 3 and 4 bedrooms and panoramic sea views, distributed in 7 blocks. Each residence is perfectly designed with your well-being and comfort in mind. All bedrooms in the residences have private bathrooms, as well as an additional bathroom for guests' privacy. Most terraces are covered, except for the penthouses which have a pergola. The kitchens in all Tiara homes are fully equipped with designer furniture and energy-efficient appliances.
17. Marbella Lake
Marbella Lake, a modern development in the heart of Golf Valley, in Nueva Andalucía – From €690,000
Marbella Lake is a new development consisting of 98 apartments distributed in blocks of 3 floors each in contemporary Mediterranean style. The 2 and 3 bedroom apartments and the beautiful penthouses and duplexes are surrounded by carefully landscaped gardens and four communal swimming pools.
Costa del Sol for sale from €1,000,000
18. Villa Senses
Villa Senses: move-in ready villa in Marbella, fully furnished in Ibiza-style for €3,695,000
Villa Senses is a beautiful 4 bedroom home with an open design. This distinctive home is fully furnished in a contemporary Mediterranean style, making it move-in ready for 100% year-round enjoyment.
19. Villa Córdoba
Villa Córdoba in Mijas: New construction villa in Andalusian style for €1,292,000
Villa Córdoba 6 & 7 are located on Mijas Golf in a charming and quiet residential area. This new construction project is located close to the center of Mijas, a typical Andalusian village full of cultural heritage. The architectural project is divided into open and well-connected spaces, including four spacious bedrooms, three or four bathrooms and a toilet, inspired by a modern and stylish design. A lush pool outside makes this villa an object of desire for all those who love the sun, nature, environment and the Mediterranean lifestyle.
20. Vilas6
Vilas6: High-end villa project with comfort of private home but advantages of a residence – From €4,200,000 
Vilas6 is a totally innovative residential concept near Puerto Banús, where residents can enjoy the independence offered by a home, combined with the services and facilities within the community. The residence is fully fenced and private, and counts with a spectacular entrance, giving access to 6 impressive "Vilas" with state-of-the-art design. The extensive outdoor spaces and gardens surrounding the villas give way to a new concept pool of almost 180 m2 plus a 36 m2 children's pool, both with water chlorination treatment. Vilas6 perfectly combines the advantages of a house with the comfort of a residential complex.
21. Palo Alto Villa's
Palo Alto Villas: Exclusive villas among the beautiful hills of Ojén – From €3,000,000 
Discover Palo Alto, an exclusive hilltop community just minutes from Marbella. This project consists of beautiful apartments, penthouses and now exclusive villas that enjoy amazing mountain and sea views! The Palo Alto estate is a whopping 50 hectares in size. However, only 20% of this is built on, so you will always find yourself in a green and natural environment. This is a place where you can enjoy a luxurious lifestyle! Not only because of the quality of the project, but also because of the many facilities it offers.

22. Palo Alto – Move-in triplex penthouse with solarium
Palo Alto: Move-in ready 3 bedroom triplex penthouse with solarium for €2,940,000
Within the already completed Las Jacarandas phase of Palo Alto, a unique penthouse is available. This penthouse consists of 2 apartments that were merged to create a unique property of 3 floors where the maximum use could be made of the spaces. The ground floor consists of a very spacious living room that opens onto a terrace enjoying magnificent views. It is also equipped with a stylish kitchen and bar where numerous guests can be received. One floor up you will find three bedrooms with ensuite bathrooms and plenty of dressing room. Two of these bedrooms are adjacent to a spacious terrace of 111 m2 with a jacuzzi. Finally, on the third floor you will find a spectacular solarium of 128 m2 where you can enjoy fantastic mountain and sea views. This apartment is available for €2,940,000 excluding furniture.
23. Marbella club golf – Villa Alegria
Marbella club golf – Villa Alegria: Exceptional new construction villa with excellent mountain and sea views. Price on request
In one of the most exclusive areas of Marbella, Marbella club golf, the Belgian company INVESTINSPAIN is developing this magnificent villa amidst the greenery. Sea views, golf views over Marbella club golf and lush nature characterize this plot of over 6,000m2! This 24h high-level security domain, is characterized exclusively by exclusive villas a riding center, charming clubhouse and an 18-hole golf course with many natural undulations. This renowned 18 hole golf club has existed for over 70 years and is known as one of the best clubs in Spain. Marbella Club brings its members together in the clubhouse, where the excellent menu attracts many club members and residents every day. In short, in this cozy atmosphere you will feel right at home.
Discover the Costa del Sol from your device!
You would like to make the Costa del Sol your second home, so you can enjoy its warm climate, beautiful beaches and quaint towns every time. But where on the Costa del Sol would you really feel at home? Which areas best suit your needs? Whether we are talking about the good restaurants and golf courses or nature and culture, the Costa del Sol has it all! However, due to the great variety between regions, it is not always clear where exactly to invest. Therefore, we list all the areas on the Costa del Sol for you. Read on here and find your perfect home!