Marbella and its surroundings are known for their sun-drenched (sandy) beaches and tasteful Beach Clubs. But where should you have been this summer for the tastiest cocktails? Or the most beautiful sunset? Which chiringuito has the best grilled fish? We figured it out for you!
Table of Contents
What are the best Beach Clubs and chiringuitos in Marbella and surroundings?
What is a chiringuito?
Undoubtedly you have heard and seen the name while you were on the Spanish beach. And most probably you have even drunk and eaten something there: the chiringuito. These famous beach bars/restaurants are located at the Spanish costas and serve breakfast, lunch and dinner. They can be compared to beach bars or a beach pavilion in Belgium and the Netherlands. You can eat indoors as well as outdoors at most chiringuitos.
Where did chiringuitos originate?
It is likely that the very first chiringuito was opened in the year 1913 in Sitges, just below Barcelona. And the great thing is, this beach bar is still there! The name chiringuito is derived from the way Cubans ordered a coffee by saying chiringo (coffee) or even chiringuito (coffee). The owner of this beach bar, el capitán Calafell, eventually called his bar chiringuito because of his connections with the Indianos (Spanish emigrants from the South American countries who later (richly) returned to Spain).
What is the difference between a Beach Club and a chiringuito?
Most chiringuitos are simply furnished. Think of the typical white or red plastic tables and chairs and the paper tablecloths. You generally have a wide choice of fish and meat dishes. In addition, you will often see wood-fired barbecues outside in the shape of a boat on which the fresh fish is grilled. There is a relaxed atmosphere and a diverse audience. The Beach Clubs are often a bit trendier and less authentic than the chiringuitos. Moreover, a lot of attention is paid to the styling, and the menu they serve is often international. Of course, this is also reflected in the price.
Marbella: Bono Beach
About 10 minutes drive from the center of Marbella you will find the atmospheric Beach Club Bono Beach. You can park in the area (free of charge) or use the valet parking. You can relax on one of the sunbeds or Balinese lounge beds and the restaurant has a wide choice of international fusion dishes and exotic cocktails. During lunch or dinner a DJ plays or there is live music in the background. In addition, at sunset you will see the sun going under the beautiful mountains, a unique environment that you will not easily forget!
Estepona: Claro! Beach Club
Whether you're looking for a day at the beach on one of the best blue flag beaches, or a location to treat yourself to a soothing massage, Claro Beach Club has it all. The chill-out terrace, with stunning views of Gibraltar, is the perfect setting to enjoy fine wines and unwind while enjoying some vitamin sea. Don't worry if the sun doesn't shine, you can also sit inside in the cozy restaurant 'Earthy-Chic'. The restaurant offers a variety of international and Mediterranean dishes.
Marbella: El Chiringuito
El Chiringuito is the famous Beach Club of Puente Romano Beach Resort. You've come to the right place for long lunches and sumptuous dinners on the terrace or the chic Puerto Romano beach restaurant. The goal of El Chiringuito is to serve honest, delicious food in a relaxed environment. Here you get the real chiringuito experience, but in a more luxurious jacket. The restaurant is open every day during the summer months for lunch, dinner and cocktails. Moreover, in 2018 this Beach Club was voted best Beach Club on the Condé Traveler Hot List, a luxury and lifestyle travel magazine published by Condé Nast.
Sotogrande: La Reserva Club
The Beach Restaurant is located in the exclusive La Reserva Club in Sotogrande. It is the perfect place to meet, eat, chill and relax. Here you can enjoy Mediterranean gastronomy and the best selection of sushi and fusion dishes. You can eat chic and comfortable in the restaurant or on the terrace, as well as at the lagoon on your lounger. This Beach Club is very suitable for the whole family. There is also a special kids club and you can practice various sports. Or how about a relaxing massage?
Marbella: Chiringuito La Red
Chiringuito La Red, is a beach bar just 5 minutes away from the port of Marbella. Here they serve typical Spanish delicacies, including paella with seafood, sardines, fish and grilled meat. Enjoy lunch and dinner directly at the private beach. Of course you can also rent sunbeds here. During the summer months they organize special events and live music can be heard. The chiringuito, which has been around for almost 20 years now, is very popular with a diverse audience, from young to old, locals and tourists.
Estepona: Spíler Beach Club
Beach Club Spíler is located in the beautiful gardens of the Kempinski Hotel Bahía. It has breathtaking sea views where you can take the most beautiful vacation photos. The restaurant serves something for everyone: Andalusian tapas, summer salads, juicy burgers and grilled sea bass. Do you prefer vegetarian? No problem, Spíler even has a separate menu for the non-meat and fish eater. If you rent a sun bed, you can use the hotel's facilities: valet parking, swimming pools and fitness and spa.
Marbella: La Plage Casanis
Beach restaurant La Plage Casanis is located on the Estrella de Mar beach in Elviria, Marbella. The restaurant has a refined Belgian cuisine. But also grilled octopus or a spicy curry with salmon and basmati rice are on the menu here. The interior is "Ibiza style" with many natural materials. Of course you can also rent a lounge bed here and enjoy the spectacular surroundings with music in the background. The location of La Plage Casanis is ideal for children and families because the water here is shallow and there are water sports nearby.
Marbella: Siroko Beach
Siroko Beach has one of the most stunning views of the Costa del Sol. Its terrace overlooking the sea and breathtaking sunsets make it one of the most romantic restaurants in Marbella. The menu has a contemporary twist, but you will also find typical Spanish dishes here. The wine and cocktail menu is extensive and reasonably priced. Of course you can also rent sunbeds here. Moreover, there is a private garden at the back of the restaurant, which is perfect for events and parties and can be rented exclusively.
Marbella: Luuma Beach
Luuma Beach is idyllically located on the El Rosario beach of Marbella. This beach bar has lovely sunbeds where you can relax all day. In the background you can hear soothing music. The restaurant serves classic dishes with a modern twist, all made from fresh, organic products. Besides the "regular" menu, they also have a daily surprise on the menu!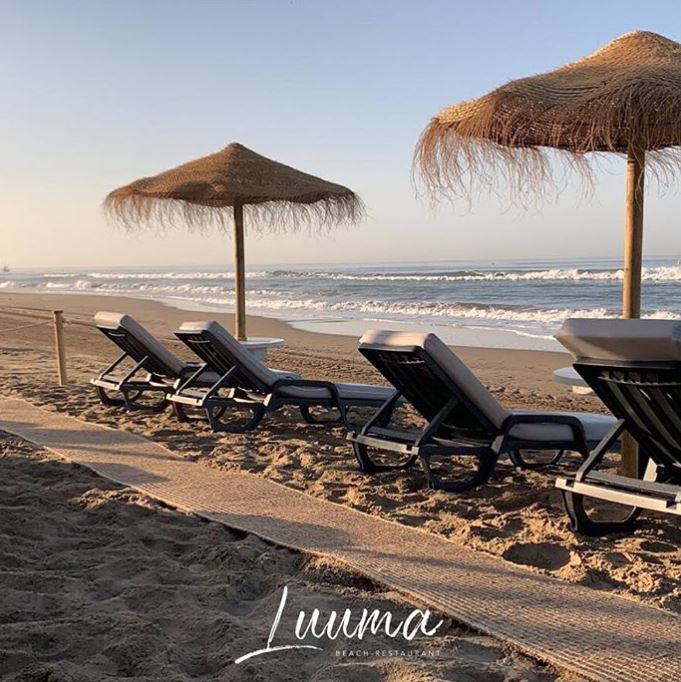 Luxury beach clubs region Marbella
Would you like to experience true luxury among the international jet set? Drink Dom Pérignon Champagne and dance between celebrities? For the real lovers of luxury we have listed our top-3 prestige Beach Clubs.
Nikki Beach Marbella
Nikki Beach Marbella was opened in 2003 and is located on one of the most beautiful white sandy beaches in Spain. This funky Beach Club consists of a swimming pool with sun beds on a raised deck, a large outdoor restaurant and a centrally located octagonal bar. All situated in a tropical garden with a fantastic view over the Mediterranean Sea. The kitchen serves internationally oriented dishes, made from local products. While you enjoy the food, a DJ spins in the background. Regularly there are also theme parties.
Ocean Club Marbella
The Ocean Club is a high quality beach club in Puerto Banus, Marbella. It has a stylish, modern and luxurious atmosphere. This club is built around a huge saltwater pool, where you can relax on extra large sunbeds with a drink in your hand. From here you also have a beautiful sea view. The restaurant offers a fine dining experience with an extensive wine list. Would you rather relax with a massage? That is also possible in the spa. Fridays are special in the Ocean Club, and are celebrated with live performances, music and dancers.
Purobeach Estepona
Purobeach Marbella offers you a lot of luxury in a relaxed atmosphere with good music. This is a cocktail bar with the most fantastic creations, a lounge area and a spa. This exclusive beach club is located between Estepona and Marbella. During the summer season there are parties organized such as the famous full moon parties and Flamenco nights. The restaurant serves various dishes inspired by the flavors of Miami, Melbourne and Marrakech.
---
If you would like to permanently enjoy these Beach Clubs on the Costa del Sol, be sure to take a look at our projects in portfolio and make this breathtaking place, your second home!