We all know the Costa del Sol because of the beautiful Andalusian villages, the nice restaurants and bars and of course the beautiful southern beaches. Are you looking for the most beautiful beaches of the Costa del Sol to sunbathe during your stay? Then be sure to check out this blog in which we list our top 10!
We start our top 10 most beautiful beaches on the Costa del Sol with Playa de Maro in Nerja. This is a breathtaking beach with a lot to do. It lies between high cliffs and several rivers flow into it, which makes for spectacular waterfalls. The beach itself consists of a mixture of coarse sand and pebbles and is about 500 meters long and 200 meters wide.
Because Playa de Maro is located in a protected coastal area, fishing is not allowed. This makes snorkeling a very popular activity, because there are a lot of fish to spot. In addition, the clear water makes snorkeling or diving easier. So you do not have to swim far at all to enjoy this fine underwater world.
Another popular activity at Playa de Maro is kayaking. One route that is travelled a lot is the route between Maro and Burriana. Here it is very nice to discover the many rocks and caves, as well as some waterfalls.
2. Playa Burriana (Nerja)
About 6 kilometers from Playa de Maro you will find Playa Burriana, also this beach belongs to the top in Nerja. It is 800 meters long and 40 meters wide and has very fine sand. Playa Burriana is located in a wide bay and is a very child friendly beach.
Unlike Playa de Maro you will find many facilities such as restaurants and bars along the Paseo Maritimo Antonio Mercero promenade. For example, you can have dinner at chiringuito Moreno, where delicious paellas and cocktails are served along the beach. There are also many play areas for children, volleyball courts and water sports such as kayaking and jet skiing.
This year (2020) Playa Burriana was voted second best beach in Europe by the organization Europe Best Destinations!
La Malagueta is the beach closest to the center of Malaga. It is a cozy beach that differs from the other tourist beaches, because here, in addition to the many tourists who visit the city, mainly local people can be found here.
La Malagueta is an artificial beach (made with sand from the Sahara) of 1200 meters long, which lies next to the port of Málaga. This means that there are many facilities available and you can combine a trip to the beach with a visit to the center or the port of Malaga.
There are plenty of sunbeds and palm trees that provide shade, and you can also cool off perfectly with a swim in the sea. The water temperature here in August rises to about 23 degrees, so it is pleasant swimming here.
Would you like to enjoy delicious tapas on the beach? Then you can visit several chiringuitos (beach bars) here! Be sure to try the 'Espetos de Sardinas'! These are sardines that are impaled on a bamboo stick and then grilled close to the fire.
4. Playa de los Boliches (Fuengirola)
Playa de los Boliches is located in Fuengirola. This is a pleasant long beach where you can enjoy clear water and fine dark sand. That is why this beach is one of the top 10 most beautiful beaches on the Costa del Sol. Playa de los Boliches is very child friendly and equipped with many facilities. Showers, sunbeds, play areas and so on, you will find them all here. In addition, you can also do jet skiing or rent pedal boats.
Along the promenade that runs along the beach, you can have lunch or dinner in one of the many restaurants. For example, you can enjoy delicious tapas at Grand café De Kroon and be served in Dutch! Or visit the chiringuito Rancho Playa, where you can taste their fish specialties.
You can walk from Playa de los Boliches very easily to the port of Fuengirola. In addition, the mosque and the Sohail castle are also not far from the beach, so you can perfectly combine a day at the beach with some culture.
5. Playa de Atrola (Cabopino)
Playa de Artola – Cabopino is a quiet family beach close to the port of Cabopino. It is also the only beach surrounded by naturally formed dunes.
The water is shallow, which makes it safe for children and there is always something to do because there is a water sports center on the beach where kayak, banana boat, stand-up paddle and many other sports can be done!
Would you like to enjoy some goodies on the beach? Then you can always go to Andy's Beach Bar, this is a very nice chiringuito where you can have breakfast as well as lunch and dinner and on top of that there is often live music played!
Playa de Artola – Cabopino is very easy to reach both by car and public transport. From Marbella and Fuengirola there are regular buses and there is ample parking near the beach.
6. Playa Real de Zaragoza (Marbella)
Playa Real de Zaragoza is one of the best beaches in Marbella. It is located about 13 kilometers from Marbella center and it is also one of the longest beaches in the area. It never gets very crowded on this beach because there is a lot of space. This makes it extra pleasant to sunbathe.
Also here you will find facilities such as sunbeds, beach bars, showers and parking near the beach is also possible.
Would you like to have lunch or dinner on the beach? Then we recommend the chiringuito Aquí te quiero ver. This beach bar has been there since 1977 and has been passed down from father to son. Here they offer refreshing dishes with local products.
7. Bounty Beach (Marbella)
Bounty Beach Marbella is a popular beach with young people. The original name of the beach is Playa del Cable, but in recent years it is also called Bounty beach because the beach bar Bounty is located there. This bar is known for its summer festivals with good atmosphere and good music.
Bounty Beach is 1.3 kilometers long and 70 meters wide. You will find plenty of nice beach bars where you can eat and enjoy the shade of the palm and banana trees. You can easily rent sun loungers and there are always showers and toilets nearby.
Would you like to do water sports? Then you can rent pedal boats and canoes at Bounty Beach.
Playa del Padrón is located about 6 kilometers from the center of Estepona. This beach attracts mainly young families in the summer, but at other times it also attracts a larger crowd.
This beach is known for its many palm trees. These grow not only in the green areas along the hotels and restaurants, but also on the beach itself. There are plenty of facilities such as public showers and toilets and you can also do various water sports. Children can also have fun in the playgrounds between the palm trees.
Playa El Padrón is very easy to reach. The highway is nearby and directly behind the beach there are many parking spaces. The beach has many beach clubs where you can enjoy good food and delicious cocktails. Later in the evening there are especially revelers who would like to go out for a night out.
9. Playa de la Rada (Estepona)
Playa de la Rada is located near the port of Estepona. It is about 2.5 kilometers long and along the beach is a nice promenade where you can always go for tapas, cocktails or other things.
The beach itself is equipped with public showers, toilets, sun beds,… It is also a very nice place for families because of the different playgrounds, trampolines, climbing frames and so on.
Playa de la Rada has a good location to the center of Estepona, so you can always make a cultural trip.
Playa de Sotogrande is located on the coastal strip between Marbella and Gibraltar. This beach has less infrastructure, but this makes it much more natural. It is a quiet beach that is especially popular with the locals.
If you walk here, you can see up to kilometers around you the natural environment. Because along this beach there are no buildings. This is really an oasis of tranquility! For this reason we wanted this beach certainly in our top 10 most beautiful beaches on the Costa del Sol mention.
Although there are not many facilities to be found, you can still visit Trocadero. This is one of the best European beach clubs! From Easter to October you can enjoy lunch or dinner, sunbathing and swimming. The club also has a child-friendly dining area, sunbeds and a swimming pool.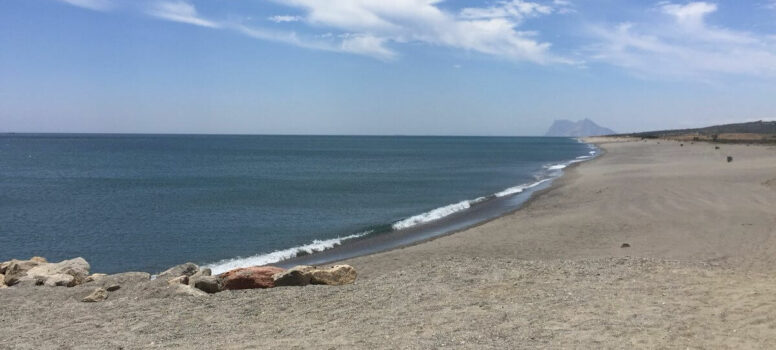 Would you like to explore these nice beaches on the Costa del Sol and make this your second home? Then be sure to book an inspection trip with INVESTINSPAIN! (Ask for our conditions.)
[contact-form-7 id="37271″]