The Costa del Sol is known not only for its beautiful beaches and vibrant nightlife, but also for its diverse range of sports opportunities. For active travellers, this region is a true paradise. In this article, we will discuss some of the popular sports you can play on the Costa del Sol. Whether you love water sports, want to enjoy nature or are just looking for a new challenge, there is something for everyone.
Popular sports on the Costa del Sol
Golf
Golf is perhaps the most popular sport on the Costa del Sol (also known as Costa del Golf). With more than 70 golf courses in the region, all with stunning sea and mountain views, the Costa del Sol is the Mecca for golf lovers. There is even talk of golf tourism. The region's mild climate makes it possible to play golf here all year round.
Golfers of all levels will find a challenging and enjoyable experience here. Many golf courses on the Costa del Sol offer excellent facilities, including driving ranges, practice greens and professional golf academies. Here, you can take lessons from experienced golf professionals to improve your game and learn new techniques. Whether you want to perfect your swing, improve your putting skills or develop strategies, expert guidance is available. Some well-known golf courses on the Costa del Sol include Valderrama, La Quinta and San Roque.
Horsebackriding
Horsebackriding is a popular activity on the Costa del Sol, where you can enjoy beautiful horsebackriding routes in breathtaking surroundings. Whether you are an experienced rider or have never been on a horse before, there are opportunities for all levels. There are several riding schools and equestrian centres scattered across the Costa del Sol, where you can rent horses and go on guided rides. These rides take you through picturesque landscapes such as rolling hills, olive groves and beaches. It is a unique, serene and ecological way to explore the natural beauty of the region.
Moreover, horsebackriding is deeply embedded in the culture of Andalusia (the autonomous community to which the Costa del Sol belongs). The region even has its own breed of horse: the Andalusian.
Tennis and padel
For those who like to beat the heat with friends, there are many tennis and padel clubs for sports on the Costa del Sol:
Tennis
Tennis facilities on the Costa del Sol offer well-maintained courts and professional instructors. Lessons are available for beginners to master basic tennis skills. Advanced players can hone their skills by participating in tournaments or just playing recreationally with other tennis enthusiasts.
Besides the sporting aspects, tennis also offers a social component. You can meet new people and make friendships with other players. Many tennis clubs organise social events and tournaments where you can enjoy the sport and have fun at the same time.
Padel
Padel is the second most popular sport in Spain after football/soccer. On the Costa del Sol, too, the sport gained a lot of popularity in recent years (although it had been played there since the 1970s after Prince Alfonso Von Hohen-Lohe introduced the game). It is a combination of tennis and squash that was invented in Mexico and is played on a smaller court than tennis with glass walls and metal fences. Padel is a very accessible sport and can be played by people of all ages and skill levels.
The Costa del Sol has excellent padel courts, both indoor and outdoor, where you can enjoy this dynamic sport. The game is usually played in doubles, making it a social and convivial activity. Padel offers a combination of fast rallies, strategy and teamwork, making it an exciting and addictive sport.
As with tennis, padel clubs offer professional instructors and lessons for beginners. It is a great way to learn the basic skills of padel and improve your game. In addition, you can participate in local tournaments or just enjoy friendly matches with other padel enthusiasts.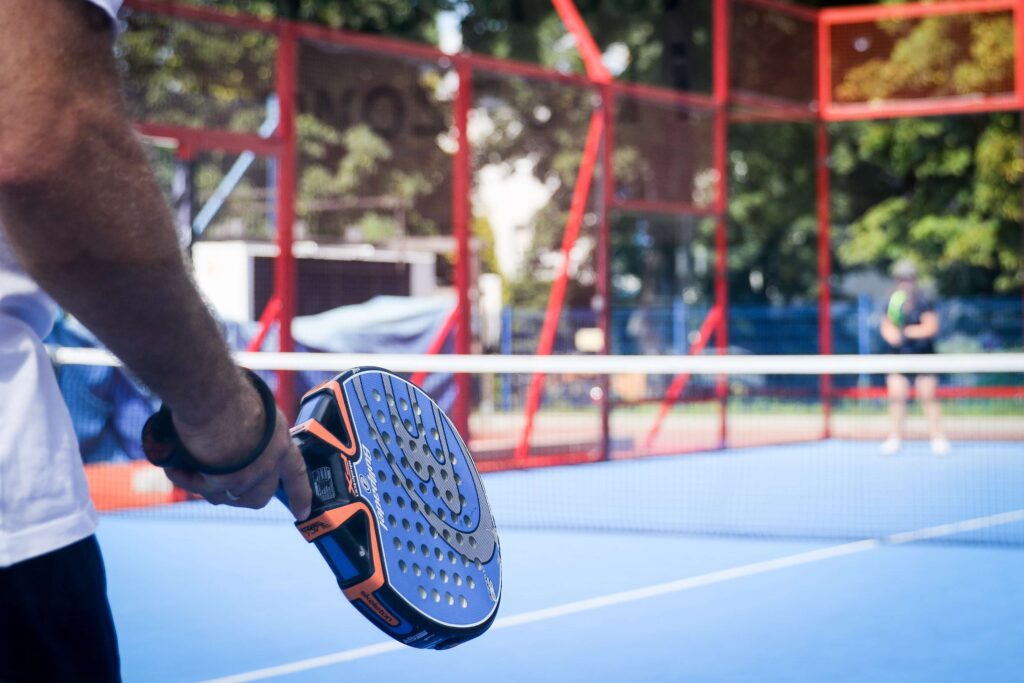 Watersports on the Costa del Sol
Sailing and kayaking
The Mediterranean offers fantastic opportunities for sailing and kayaking. Hire a sailboat or kayak and explore the Costa del Sol's beautiful coastline. Organised boat trips and kayaking excursions are also available for those looking for a more adventurous experience. Cruising on the bright blue water gives a huge sense of freedom and allows you to make the most of the region's mild climate.
Surfing and Windsurfing
The Costa del Sol has some excellent beaches with great waves and lots of wind, making it an ideal place for surfing and windsurfing. There are several surf schools and rental shops along the coast where you can hire the necessary equipment and take lessons. Some popular surf spots include Tarifa, Marbella and Fuengirola.
Diving and Snorkelling
The waters of the Costa del Sol are rich in marine life, making it a great place for diving and snorkelling. Explore the underwater world and discover colourful coral reefs, fish and other marine organisms. Diving schools and excursions are available for both beginners and experienced divers. If you are lucky, you may see dolphins, whales, sea slugs or even the rare moonfish.
Jet skiing
With its beautiful coastline and clear waters, the Costa del Sol is a great place to get on a jet ski and enjoy the thrill and excitement of this water sport. There are rental companies and water sports centres all along the coast that rent out jet skis to both beginners and experienced drivers. A jet ski fits perfectly with the glitzy and hip lifestyle that characterises the Costa del Sol, plus you can enjoy the stunning sea views at full speed. With responsibility and respect for the marine environment, you can have a great time jet skiing on the Costa del Sol.
Fishing
The waters of the Costa del Sol are rich in fish species, making it an ideal destination for both experienced anglers and beginners. Whether you enjoy deep-sea fishing, fishing in rivers or lakes, or just want to relax while casting your rod from the shore, there are options for everyone.
Deep-sea fishing is a popular activity on the Costa del Sol. You can hire a boat with experienced crew to take you to the best fishing spots. While deep-sea fishing, you can catch different species of fish, such as tuna, dorado, mackerel and marlin. It is an adventurous and exhilarating experience, especially if you hook a big fish.
Besides deep-sea fishing, there are also opportunities for fishing in the region's rivers and lakes. There are fishing ponds and reservoirs where you can enjoy peaceful fishing in picturesque surroundings. Popular fish species in inland waters are trout, carp and pike.
For those who like to fish from the shore, there are several beaches and jetties where you can cast your rod. This is a relaxing way to enjoy the sea and the beautiful weather while waiting to catch a fish. You can catch different species of fish depending on the season and location. Make sure you are aware of local fishing regulations and that you always have a fishing licence where required.
Hiking and cycling
There is also plenty to do in the Costa del Sol for those who prefer to stay with both feet on the solid ground. The region has several hiking trails and nature parks where you can enjoy breathtaking landscapes and an abundance of flora and fauna. For the same reason, cycling and mountain biking enthusiasts can also come here.
Sports at home on the Costa del Sol: Fitness
Almost all new construction projects on the Costa del Sol feature a gym. So you can stay within the convenience of your own home to do some quick work on your summer body or just to stay in shape. The sport is becoming increasingly popular because you can put together your own exercises to suit your age, level and goals. Moreover, with the advent of the internet, the entry threshold has been lowered tremendously. On top of that, with this sport, you completely choose when to do it, almost all gyms are open 24/7.
Fitness also brings very many health benefits: it improves your cardiovascular health and can even strengthen your bones in the long run.
Activities other than sports on the Costa del Sol
For those who prefer to take it easy or for those who prefer to enjoy the lovely weather, there are plenty of other activities, including gastronomy: Discover the best bars and restaurants in Marbella, for example