The most important things you need to know about Manilva
1. General
Manilva is located on the southwestern edge of the province of Malaga, on the border with Cadiz. The city is divided into two parts, the seaside resort and the charming white village, located just 3 kilometers from the coast. The village itself, the original Manilva, is bordered by a beautiful vineyard of Moscatel Grapes, which is mainly used for making sweet wine. Málaga airport is less than an hour's drive away and Gibraltar airport about 35 minutes.
2. Sights
There are several things to see and do around Manilva.
The Iglesia Santa Ana is definitely worth a visit. The building was built in the late 16th century. The work began in 1776 with maestro Felipe Perez and would last until 1783. The temple was built with the help of the diocese, the inhabitants of Manilva and the Duke of Arcos, lord of the city.
Castillo de la Duquesa. This castle from the 18th century was built to defend against pirates. Although the building is not large, it is very impressive. From the top you have a magnificent view. It also has a small museum with archaeological excavations.
Very fun and educational is the wine tour at Nilva. This small bodega produces about 8000 bottles of Moscatel wine per year. The tour takes you along the vines and the winery. During the tasting they also serve some accompanying tapas.
3. Culinary delights
In Manilva you will find dozens of restaurants and cafes.
Opposite the harbor is an excellent eatery Chilli La Duquesa. Here they serve Mexican and Indian dishes. The interior has a chic look and is perfect if you want to dine romantically with your partner. The terrace has a beautiful view of the yachts. The chicken tandoori from the clay oven is great!
El Estribo is a cozy restaurant for the whole family. This Argentinian establishment specializes in grilling meat. You can eat indoors as well as outdoors.
4. Lifestyle
Manilva has a relatively small population of less than 20,000 inhabitants (excluding tourists). It has become a popular place for foreign residents who live and work here. It is one of the most traditional Spanish areas on the coast. The mix of old and new has been successfully achieved here. In addition to beautiful unspoiled beaches, a rich history and a traditional atmosphere, Manilva has excellent facilities in the surrounding area.
5. Nightlife
For the real nightlife you don't have to be in Manilva. For that you will have to go to Puerto Banus, Marbella.
Of course there are some cafes where you can have a cocktail or a glass of beer.
Bloody Mary Lounge Bar is a hip cafe where many live performances take place in the weekends. It is popular among the Spanish population. Besides cocktails they also serve sweet snacks like waffles and ice cream.
6. Shopping
Manilva is a quiet and charming place that reflects traditional Spanish culture with the sporadic influence of modernization. Unlike metropolises, there are no large shopping malls or supermarkets, but a lot of small stores and boutiques. There are many handicrafts available here from different parts of the world. But also jewelers, shoe stores and items made of leather are very popular.
On Sundays, people can participate in a huge trunk sale. What once started out as a small market, set up by expats, grew into a real attraction.
7. Sports & Leisure
There are also several golf courses in the area around Manilva. La Duquesa Golf is an 18 hole course with a length of 6054 meters and was designed by Robert Trent Jones in 1986. It is a very varied course which makes it fun for both experienced and less experienced players.
Do you prefer a beach ride on horseback? That is also one of the possibilities!
At Spa MG Wellness you can relax and unwind with a massage or facial treatment.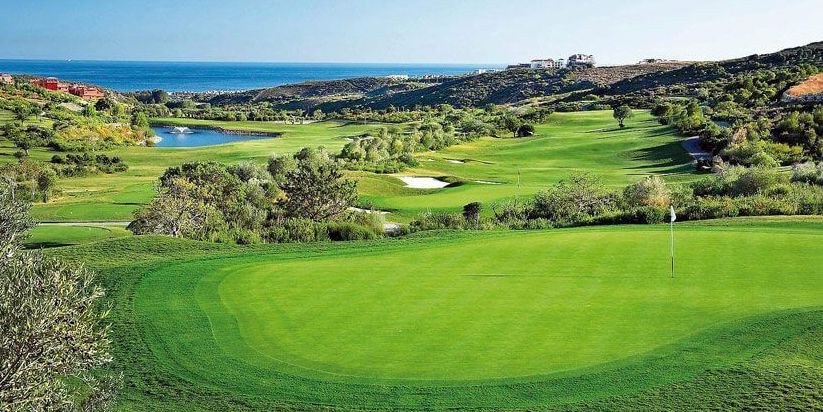 8. Beaches & Beach Clubs
The sandy beaches of Manilva are quiet and unspoiled. You will find several chiringuitos where you can taste local dishes in an unusual atmosphere. Especially the elderly and families are attracted to this beach because relaxation and tranquility dominate here.
Chiringuito Manilva Beach is a typical Spanish chiringuito that also rents sunbeds and umbrellas. The paella here is richly filled with fresh seafood and tastes even better with a glass of Verdejo.
9. Real estate projects
Have you also become enthusiastic about this white Spanish village? We have several new construction projects in Manilva. Among them the unique project Pure South Manilva.
10. Why Manilva?
In the overview below you will get a clear picture why Manilva is perfect for you.
Touristic yet quiet location
Airport of Gibraltar, 36 km
Airport of Malaga, 80 km
Near the larger places such as
Cadiz, 130 km
Marbella, 45 km
Pleasant port
Diversity of restaurant and cafes
Unspoiled beaches
Extremely suitable for families and the elderly
Good facilities nearby such as a medical center