The most important things you need to know about Casares
1. General
Casares is a pleasant town on the Costa del Sol, where the Spanish culture is still clearly present. We can divide Casares into the white authentic village, which lies a bit inland and the more modern coastal area. It is an attraction for golfers, but also culture lovers will certainly feel at home here. Since there are many cultural activities every year, there is always something to do here!
2. Sights
One of the most famous monuments in Casares village is El Castillo. This is located next to the picturesque village and is partly preserved. According to Arab sources, this castle was built around the 13th century and served as a communication point between Manilva and Estepona. This is definitely worth a visit!
In and around Casares there is a lot of history to sniff at, including La Iglesia de la Encarnación. Together with the castle it is located at the highest point of Casares. This church was built around the 16th century, but was damaged during the Spanish Civil War after which it became a ruin. It was rebuilt in 2006 and since then it has served as a cultural center.
Along the church and the castle there are several hiking trails where there are other nice sights to see. In addition, from the hills in Casares you have a beautiful view of the coastline!
3. Culinary delights
There is certainly no shortage of gastronomy in Casares. Would you like to have lunch with a view of the sea, or would you rather dine among the beautiful hilly landscape? That is definitely possible here!
A nice restaurant that we definitely recommend in Casares is Sarmiento – Braza Andaluza. This is a very well known restaurant that offers a unique experience of Andalusian cuisine, and where the grill is central.
Another recommendation is El Jardin de Lutz at Finca Cortesin. Here you find a relaxed and elegant atmosphere, where you can enjoy the Spanish cuisine with a view of the Mediterranean Sea.
Would you like to eat something along the coast? Then we suggest Bahía Beach! Here you can enjoy delicious dishes on their terrace along the beach.
4. Lifestyle
Casares can be divided into Casares Pueblo, where the authentic Spanish culture is still clearly present, and Casares Costa, which is more modernized. For these reasons most expats go to the coast, because there is more new construction to be found there. Casares is in general a quiet area where you can enjoy nature and culture. You'll find all basic facilities and it is not far from the bustling Estepona.
5. Nightlife
Casares is not immediately known for a busy nightlife, but you can certainly enjoy a delicious cocktail in one of the bars. Would you like an evening out to party? Then we recommend you to head in the direction of Estepona.
6. Shopping
There is certainly no shortage of artisan shops in Casares. Here you can buy a lot of handmade products such as bags and shoes and there are also small bakeries and grocery stores in abundance. However, would you like to visit some more commercial stores? Then you should go to Estepona or Puerto Banús.
7. Sports & Leisure
If you love nature, you can certainly enjoy yourself in and around Casares. Along Casares runs Parque Natural de los Alcornocales. This is a natural park of about 165000 ha where there are numerous hiking trails to be found. Moreover, this park is also a paradise for birdwatchers!
For golf lovers, Casares is the place to be! For instance, there is Casares Costa Golf. This 9-hole golf course was designed by Juan Carlos Martínez and runs through a soft valley surrounded by vineyards, avocado and orange trees and other typical Mediterranean forests.
There is also Finca Cortesin, this golf course is known worldwide for delivering one of Europe's most unforgettable golf experiences. The harmonious relationship between the natural Mediterranean landscape and the surroundings on the 18-hole golf course of the resort, provide a beautiful design.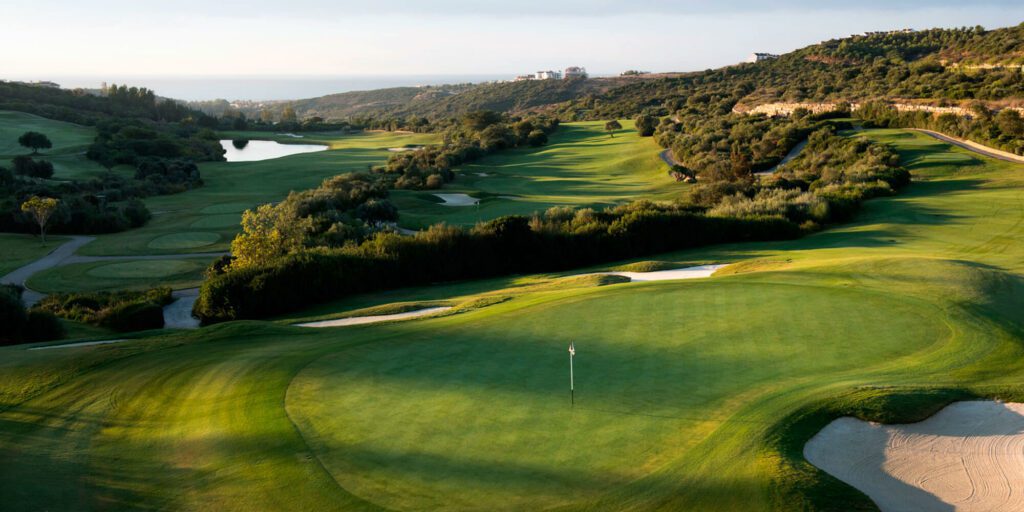 8. Beaches & Beach Clubs
Casares also has some blue flag beaches, which means that the quality and facilities of the beach are very good.
If you would like to sunbathe, you can go to Playa Ancha. This beach is located west of Casares and has plenty of facilities and a nice promenade.
You can also definitely go to Playa Piedra Paloma. This beach is an attraction for tourists, but it never gets too crowded, moreover you will find many nice bars and restaurants here!
9. Real Estate projects
Would you also like to stay in Casares? We have many projects in our portfolio! Take a look at Casares Golf and discover what this project has to offer.
10. Why Casares?
Both coastal and mountain area
Picturesque village
A lot of gastronomy
Lots of nature all around
Several golf courses
Quiet atmosphere
Interesting new construction along the coast

Not far from Estepona

…