Geschatte leestijd: 12 minuten
In 2021, the luxury real estate market in the Marbella region experienced a significant rebound after the slump of 2020. Official figures for transaction volumes last year in the Golden Triangle (Marbella, Benahavis & Estepona) combined with 2020 and compared to 2019, suggest that this was largely the result of pent-up demand.
However, average transaction values increased significantly over the past 16 months, something confirmed by a number of real estate agents in the Marbella region reporting record years in terms of sales turnover.
Introduction Buyer Profile
Buyers of luxury real estate are getting younger. We are also seeing better qualified buyers, with much of the property research now taking place remotely, prior to a physical viewing. This was the usual modus operandi in property searches, even before the pandemic, but the difference now is that remote viewings have become almost normal. This means fewer in-person viewings and an accelerated buying process.
We have seen this trend continue in the first quarter of 2022, with a knock-on effect of the decreasing supply of turnkey properties in prime locations, leading to significant price increases and a search for suitable properties in neighboring locations.
While we believe that pent-up demand has now been largely satisfied, we expect demand in the top end of the market to remain strong for the foreseeable future, although at a less hectic pace than last year.
What caused the increasing demand?
Low interest rates and the availability of low-cost financing
A shortage of prime inventory
Rising wages and accumulated savings in lockdowns
Strong stock market performance and record bonuses
A reassessment of housing needs and lifestyles
More flexible work patterns
Wealth creation – 5 million new millionaires worldwide by 2021
The appeal of real estate as an inflation hedge
---
The golden triangle
The volume of sales transactions in the Golden Triangle – the name popularly given to the area that includes the municipalities of Marbella, Estepona and Benahavis – practically halved during the peak of the pandemic in 2020.
According to figures from the Spanish Ministry of Public Works (Fomento), this catch-up demand was met in 2021, especially during the last three quarters of the year when travel restrictions were lifted worldwide.
However, as the figures in the following chart show, the sales volume for 2021 and 2020 combined averages a similar volume to 2019, with perhaps a slightly better performance from Estepona.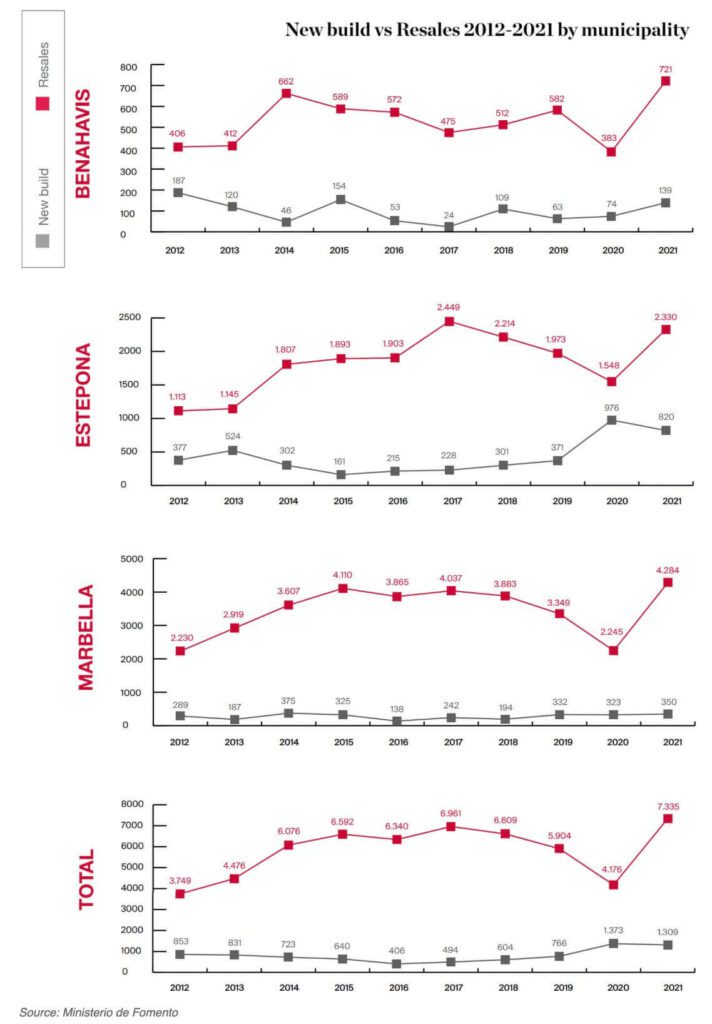 Given that many brokers operating in the Golden Triangle are reporting record years in terms of sales, and generally saying it's not just pent-up demand, this leads us to believe that what was experienced was an across-the-board increase in average transaction values in the higher end of the real estate market.
This was supported by news of record sales figures in super-prime areas such as La Zagaleta in Benahavis, as well as record prices per square meter achieved in the sale of apartments and penthouses in iconic resorts such as Puente Romano in Marbella's Golden Mile.
Buyer profile real estate Costa del Sol anno 2022
Renovated and Furnished.
Contemporary Villas ready to move into.
New Construction.
Off-plan apartments with expectation of good profit for resale.
Outdoor Plan.
Concierge & flex work services.
Homes with unique design or amenities.
Sustainable homes.
The percentage of purchases by foreigners continued to rise to 13.17% (164,299 transactions) of the total in the first quarter of 2022, official figures show.

Ranking of foreign nationalities buying Spanish real estate (national).
Dutch & Belgians biggest fans of new construction
These are the top 3 in Spain in 2021, as a percentage of their total purchases:
1 Belgium 33.7%
2 Norway 31.82%
3 Netherlands 24.19%
Andalusia
Foreign buyers in the Andalusia region represented 11.48% of all transactions, virtually the same as in the previous year. In parts of the region closer to the coast
which are popular with tourists, the percentages of non-resident foreign buyers are much higher than the
regional average.

In Andalusia, the British account for 16.7% of total purchases by foreigners, with the Swedes in second place with 10.28%. In the first quarter of 2022, the percentage of foreign buyers in Andalusia increased to 15.14% of the total.
Province Málaga
In 2021, in the province of Málaga – where the Costa del Sol is located – more than a quarter (27.36%) of homes were sold to foreigners. This represented a slight decrease (0.83%) from the previous year. This number rose further to 33.7% in the first quarter of 2022, official figures show.
The top 3 foreign buyers nationalities in 2021 in Málaga were:
UK 16%
Sweden 14%
Belgium 9%
Based on our own transaction data for the Marbella, Benahavis and Estepona, property purchases by foreigners immensely exceed those of Spanish buyers.
---
Recente blogs of InvestinSpain:
---
Analysis buyer real estate Costa del Sol: trends 2022
These are the current customer trends that our team has identified. We have compiled the most important ones into 8 main trends:
Renovated and furnished
Contemporary Villas ready to move into
New construction
New construction homes on the Costa del Sol are very much in demand right now. Due to the rising prices of prime real estate, buyers are currently forced to look further. The big advantage here is often that new construction projects are being developed on prime sites. This benefits the views of many newly built apartments and villas. Also, the infrastructure surrounding the projects is often better, more spacious and newer than existing homes.
Off-plan apartments, expect good profit for resale
Outdoor Plan
Concierge & flex work services
Flex work is increasingly important. It is driving a new group of property buyers in Costa del Sol. And that fact has not escaped developers. Several new construction projects launched during the Covid pandemic feature flex-work spaces exclusively for residents. Perhaps the best example of this is the Olivos phase within the Palo Alto project in Ojen.
Homes with unique design or amenities
Currently, branded residences are in high demand.
The branded residency sector has grown rapidly, especially over the past 20 years, with more than 400 around the world, the majority of which are hotel residences. In response to the increasing demand for branded residences over the past four years, Marbella has become the destination for several very exciting luxury hotel and private residence projects.
Services and amenities are the top motives behind purchasing a branded residence, according to Knight Frank Global Buyer's Survey 2021.
There are projects underway in the Marbella region associated with renowned hotel brands such as The Four Seasons, W Hotel, Club Med Group, Hilton, as well as designers Fendi Casa, and the planned Karl Lagerfeld residences, among others.
Sustainable Homes
The concept of biophilic design in residential architecture has become a very trendy concept in the past year. Biophilia is the love of all that is alive or natural and with this in mind biophilic architecture strives to bring the occupants of a home together with the natural environment. People's desire or yearning for nature and open spaces was reinforced by the pandemic and while last year we saw a marked change in the type of homes buyers wanted, with a preference for larger, more spacious homes, we have also seen a demand for recreating natural environments inside a home. Awareness of mental health has become paramount in the last two years and biophilic architecture is focused on replicating natural environments in the home to positively impact one's emotional well-being.
It is with the above in mind that there is a growing demand for home designs that are purposeful:
The use of biomorphic patterns.
Using natural materials such as stone and wood with lines, shapes and forms found in nature.
Promoting a multi-sensory experience (e.g., the smell of plants and the sound of water or feeling the flow of air indoors) through the use of floor-to-ceiling sliding glass windows that allow interiors to open seamlessly and become more integrated with the outdoors.
Living walls, hanging gardens and water features.
Maximizing natural light and creating a lighting system that changes throughout the day to mimic our circadian rhythms.
Summary
In recent years, Marbella has undergone a significant transformation. Little remains of the tourist destination that was once limited to where European golfers flocked during the colder months to enjoy winter sun and leisure.
The combination of technological advances and the ability to work mostly from home has gradually made Marbella the home for numerous families, mostly from Northern Europe, who have migrated to the Costa del Sol to take advantage of Marbella's good infrastructure and international quality schools.
This change, which began almost a decade ago, has transformed the city and increased the number of activities for a younger age group, resulting in an overall improvement in gastronomic, cultural and sports offerings.
Real estate growth in Marbella region
Real estate is one of the sectors that has experienced unprecedented growth, especially after Covid. Construction has reached a level of that puts Marbella on par with its European Mediterranean counterparts, with projects such as Epic by Fendi Casa being a commercial success, and spearheading the arrival of Four Seasons and Karl Lagerfeld villas among other internationally known brands.
Marbella has become one of the fastest growing and most sought after luxury destinations in Europe, and will continue to be so in the foreseeable future.
The appeal of real estate as an inflation hedge.
A rethinking of housing needs and lifestyles: more flexible work patterns
that allow relocation abroad and the need
for spacious and practical homes with wellness and mental health driven architecture and interior designs.
High demand and shortage of prime stock of: either older villas with possibility of
Refurbishable or newly built/refurbished villas in prime locations within the Golden
Golden Triangle, as well as branded or real estate.
Increase in off-plan sales, more noticeable in the villa market.
Cooling off of property price increases – the tightening of financial conditions making construction costs up and makes financing less accessible indicate a slowdown in property price increases over the past 12 months. At the same time, while pent-up demand has been largely met, continued
Demand and a lack of inventory will make price adjustments
About InvestinSpain
Our mission is very clear; to professionally assist people with a heart for Costa del Sol in their search for the perfect investment, through a personalized approach with a home office. Not only financially but above all in quality of life. Besides a good investment, we want to assist you carefree, through professionalism & transparency.
Buying an apartment or villa on the Costa del Sol can be a challenging process. Through our services we take these away. We know better than anyone what to look out for, and we stand up for our clients with our personal approach. We take away all the worries and uncertainties so that you can fully enjoy the property after the key exchange.